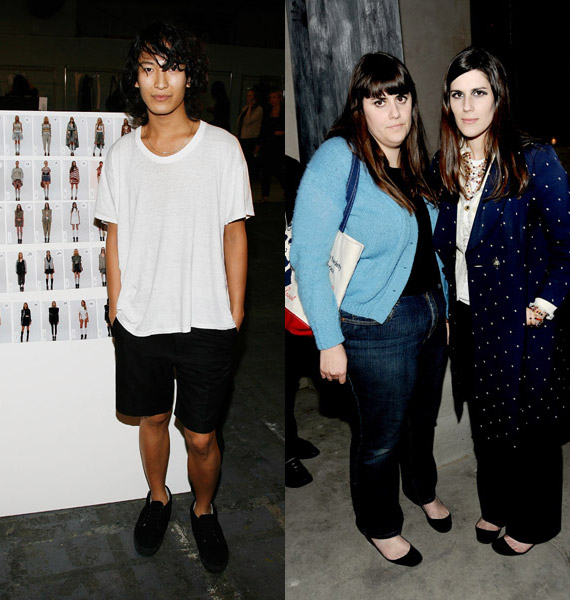 Photos: WireImage
Marc Jacobs is not the only one live streaming his fall 2010 fashion show, Alexander Wang and Rodarte will also be live streaming their collections at legendary fashion photographer Nick Knight's website SHOWstudio in an initiative supported by Mercedes-Benz. Alexander Wang's show will be presented on February 13th at 5:00PM EST and Rodarte on February 16th at 12:00PM EST. So glad designers are trying out new things, I know there are other designers live streaming as well. Mark your calendars, sit back and relax!
"I see the future of fashion weeks around the world as not only a physical schedule of shows, but also as a digital calendar of fashion experiences online, which bridge the industry and consumer experience," said Nick Knight, Director of SHOWstudio. "When the industry talks about the future of fashion weeks' this is ultimately where they will arrive."

"Working with Nick Knight and SHOWstudio is truly an honor. We are so excited to bring our show to a new platform, and to do something truly innovative in the way it is presented to our audience," said Alexander Wang.

"With each Rodarte show, we aim to create a visual and experiential immersion for the audience. Working with Nick Knight to bring our next show environment to a wider audience is a thrilling opportunity," said Kate and Laura Mulleavy of Rodarte.
For more information please visit http://live.showstudio.com
$29.99 0 bids 0hr 5mins

$129.0 BUY IT NOW 0hr 8mins

$129.9 BUY IT NOW 0hr 13mins

$24.15 BUY IT NOW 0hr 14mins

$22.56 BUY IT NOW 0hr 26mins

$26.99 BUY IT NOW 0hr 33mins

$139.99 0 bids 0hr 37mins

$224.99 BUY IT NOW 0hr 40mins
disclaimer
Categories: fashion fashion week new york fashion week
Tags: