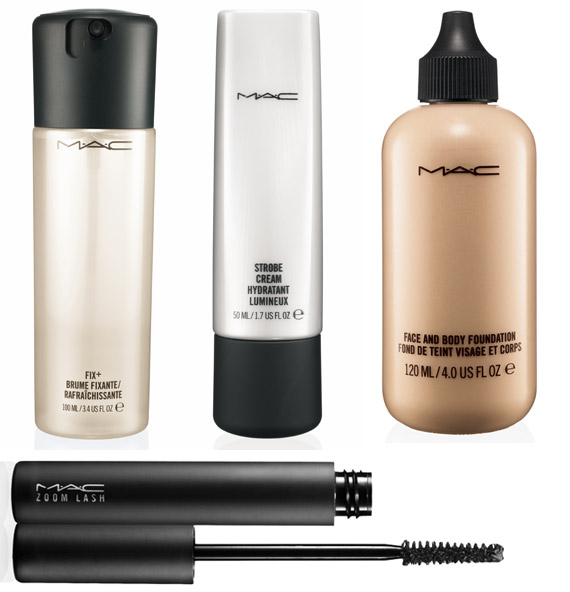 As I mentioned earlier, to mark the partnership of MAC Cosmetics and Milk Studios, they developed a limited edition collection of 14 key backstage products used by MAC makeup artists. From February 2 to 22, this MAC & MILK collection will be sold exclusively online at maccosmetics.com.
"Radiant skin, smokey eyes and beige lips seem to be a part of the beauty trends every season. The M·A·C & Milk Collection are the iconic products that create these trends. No makeup artist can live without these products during Fashion Week," says Gordon Espinet, Vice President of Global Makeup Artistry, M·A·C Cosmetics.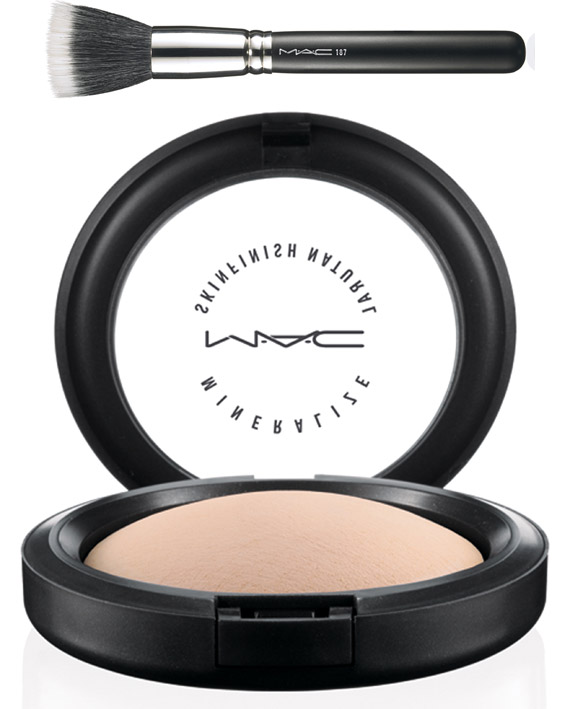 SKINCARE
Strobe Cream – $29.50 – The ultimate quick fix for skin. This cream brightens and clarifies with iridescent particles and antioxidants, enhancing the effect of light on the skin.
Fast Response Eye Cream – $30.00 – This caffeinated cream de-puffs, firms, soothes and softens skin around the eyes.
Fix + – $18.00 – One spritz of this vitamin and mineral blend of green tea, chamomile, cucumber, and a scent of Sugi leaves the skin radiant and fresh.
EYES
Kohl Pencil in Smolder – $14.50 – This intense black eye pencil lines, defines, and shades with rich colour and a silky smooth finish.
Brow Set in Clear– $14.50 – This brush-on clear gel grooms and slicks brows into shape without flaking or stiffening the brow.
Eye Shadow in Copperplate and Brown Down – $14.50 each – This teddy bear brown and muted mid-tone grey are highly-pigmented shadows, apply easily and blend well to create a sultry, smokey look.
MASCARA
Zoom Lash Mascara in Zoomblack – $13.00 – This smudge-proof and long-wearing mascara provides instant volume and length to the lashes in a rich black shade.
FACE
Mineralize Skinfinish Natural – $25.00 – This luxurious face powder contains baked in minerals that provide a dimensional yet natural-matte finish. Perfect to set and fix foundation.
Face and Body Foundation – $32.00 – This water-based and water-resistant foundation provides sheer, natural looking coverage in a long-lasting formula.
LIPS
Lipglass Clear – $14.00 – Containing Jojoba Oil to help soften and condition the lips, this clear gloss creates a high gloss, glass-like finish that lasts.
Lipstick in Fleckletone and Fleshpot (PRO) – $14.00 each – These neutral peach and soft pinkish-beige lipsticks provide colour and texture that is guaranteed to stand out on the runway.
TOOLS
Brush #187 Duo Fibre Brush – $42.00 – This large full circular brush made from a soft blend of goat and synthetic fibres can be used to blend face powders or pigments to create soft layers or add textures.
$19.95 BUY IT NOW 0hr 0mins

$10.99 BUY IT NOW 0hr 1mins

$24.5 BUY IT NOW 0hr 2mins

$17.6 BUY IT NOW 0hr 2mins

$5.99 0 bids 0hr 2mins

$26.39 BUY IT NOW 0hr 4mins

$113.03 BUY IT NOW 0hr 4mins

$13.0 BUY IT NOW 0hr 5mins
disclaimer
Categories: beauty fashion week new york fashion week
Tags: