I love my BlackBerry to death but sometimes I'm so jealous of all the cool iPhone apps. I've gotten some emails with new iPhone/iPod Touch apps, just thought you guys would want to check them out.
G-Star launches iPhone app to discover ?New York City during Fashion Week, the app helps visitors to discover, and share, the trendiest hotspots during New York Fashion Week – and, best of all, it's free of charge! The RAW City Guide New York app reveals the tastiest restaurants, the coolest bars and clubs, the hippest stores and the hottest art galleries. All these locations are chosen for a youthful audience of art, design and fashion lovers, and via GPS everything is shown on Google Maps, so you'll never be lost.
During Fashion Week, G-Star's young team of RAW Reporters (winners of the recent G-Star social media competition) will also be adding their favorite hangouts and, of course, all of the app's users are able to share their own secret spots by taking a picture and adding some details, so it will be kept continuously up-to-date. The New York RAW City Guide app is available on the iPhone and iPod Touch, from iTunes. In the future G-Star plans to launch RAW City Guides for Amsterdam, Berlin, London, Tokyo and elsewhere.
More iPhone apps after the jump…
BlackBook Magazine launches iPhone app, it's a nightlife guide that provides users with instant access to insider reviews of the hottest shops, restaurants, bars and hotels in their neighborhood. The app integrates with Foursquare's geolocation technology. (If you haven't heard of Foursquare, it's a very popular program that let's you "check-in" at your favorite locations, gaining travel points and giving tips to others who may be interested in stopping by later.) So basically the BlackBook app allows you to check out reviews and get special access (free drinks, discounts, etc.) while interacting with friends on a virtual map. The BlackBook Guides app is available on the iPhone and iPod Touch, from iTunes.
—-
Trendstop.com just launched a new fashion iPhone app. It is free and will provide straight off the catwalk trend research and imagery as it happens. They have hundreds of forecasters around the world providing up to the minute feedback and imagery on all things trends. The app is available on iTunes.
—-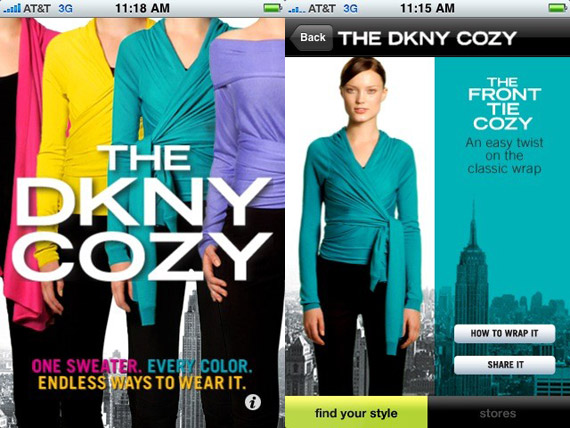 DKNY launches Cozy iPhone app, now available on the iTunes store. The DKNY Cozy app is strictly a tool to show step by step visual directions on how to style the cozy, utilizing both video and still photography. Not only is it more environmentally friendly and cost effective, the cozy app is always accessible and much more comprehensible than a printed guide.
—-
Urban Signals launches iPhone app. No more seeing someone on the street, sharing a smile, feeling a spark and then walking away wishing you would have said hello…no more missed connections. Urban Signals is a social networking, location-based mobile application that allows you to see people around you, if they're available, interested and ready to meet up…right there on the spot. Urban Signals champions chemistry, "love at first sight" and empowers singles with freedom from desktop dating. Whether at a coffee shop, the dog park, bookstore or even an airport, Urban Signals turns any scenario into an opportunity to make an in-person connection.
"He's Just Not Your Type (And That's a Good Thing). "Urban Signals is a perfect application for that!"
"Successful dating is about being in the moment, having fun and taking (smart) risks," said Andrea Syrtash, Dating Expert and Author of the upcoming book "He's Just Not Your Type (And That's a Good Thing). "Urban Signals is a perfect application for that!"
Urban Signals' innovative platform leverages the benefits of online dating, while integrating social, dating and gaming elements that encourage spontaneous connection between singles. Urban Signals broadcasts a user's location with the application's unique radar. The radar shows users the location, mood and status of other singles of interest that are nearby. Similar to online dating, these singles are determined by the user's preferences. For example, a woman interested in men between the ages of 25-40 will only be notified when other users of interest to her, are in her area. She can then learn more about them by viewing profiles that offer just enough details to inform, intrigue and encourage further action. "Signals" are then exchanged between users to say hello, express interest, or meet up if they share a mutual interest or attraction.
Founder and CEO, Aubree Nichols, has an extensive background in advertising, consumer research and creative idea generation. She also has a special interest in the chemistry of connection and has always been fascinated by urban behavior and missed connections. As a single New Yorker, Aubree traversed the dating worlds, fell in and out of love, and in the process, thought she just might know a better way. And thus, Urban Signals was born.
"Urban Signals began as an observation I continued to witness on New York's city streets…the problem of missed connections," said Aubree Nichols, founder and CEO of Urban Signals. "I didn't know what the answer was, but I knew it would have to break down that 'urban armor' that discourage singles from approaching someone they found attractive or intriguing."
"Urban Signals is a balance of technology, timing and understanding of what we can do as people with smartphone applications," said Clarke Keough, founder of Keough Capital, the private investment firm incubating Urban Signals. "Urban Signals is at the center of this important technological intersection bringing the human element back into a central role"
Urban Signals is a free download available now for iPhone and iTouch customers, on the iTunes store. All new users are given a 1-month trial of unlimited Signals to learn how to navigate the application. After 30 days, 'Unlimited Signals' packs can be purchased monthly for $4.99 per month. Visit www.urbansignals.net for more information.
—-
#NYFW
Categories: fashion fashion week gadgets new york fashion week
Tags: