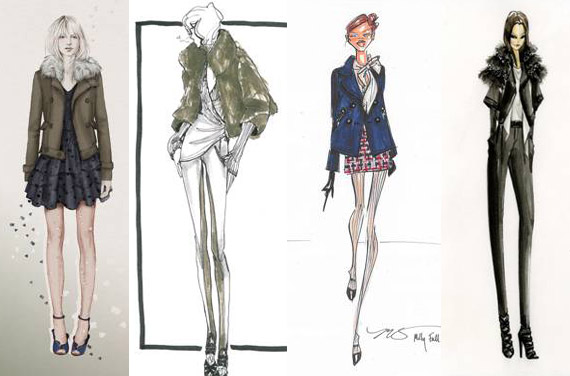 New York Fashion Week is just around the corner, here's a few fall 2010 inspirations and sketches for Rebecca Taylor, Tracy Reese, Milly, Elie Tahari and G-Star. Can't wait!
Rebecca Taylor Fall/Winter 2010 Collection Inspiration:
The fall 2010 collection was inspired by a mixture of 70's Parisian attitude and an urban New York City girl. With a renewed love for classic sportswear, silhouettes have been re-worked with a twist to give subtle edge on signature feminine designs. The palette includes dusty hues and new neutrals contrasted with military olives and hints of old gold. Fabrics are washed to provide a worn, overly-loved appeal and are combined with cashmere wool suits, leopard faux furs and down quilted coats, together giving this collection an affordable luxe quality.
Tracy Reese Fall/Winter 2010 Collection Inspiration:
"An eclectic mix of urban and rural style makes for a very modern yet infinitely wearable fall 2010 collection. Rustic Prince of Wales checks, distressed faux fur and stretch suede styles are softened by cosmetic toned lingerie and made cozy by soft alpaca sweaters." –Tracy Reese, Designer
More pics and info after the jump…
Milly Fall/Winter 2010 Collection Inspiration:
"For my fall collection, the artsy, chic girls of Paris' Left Bank are my inspiration, in a combination of luxe fabrics, clever techniques and cool attitude." – Michelle Smith, Designer
Elie Tahari Fall/Winter 2010 Collection Inspiration:
"My fall 2010 collection is homage to the great women who traveled the globe in style." – Elie Tahari, Designer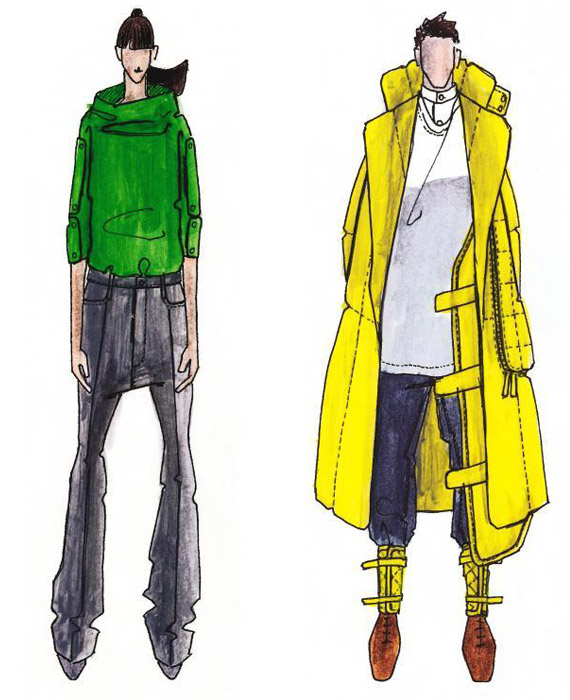 G-Star Fall/Winter 2010 Collection Inspiration:
The G-Star Fall/Winter 2010 NY RAW Men's and Women's Collections demonstrates the fusion of denim craftsmanship, elegant tailoring and sophisticated silhouettes in vibrant colors. Eye-catching metallic washes and treatments further enhance the collections, highlighting the inventive and truly original aesthetic that is distinctively G-Star.
#NYFW
$25.0 BUY IT NOW 0hr 12mins

$40.99 BUY IT NOW 0hr 16mins

$47.99 BUY IT NOW 0hr 19mins

$34.99 BUY IT NOW 0hr 22mins

$39.99 BUY IT NOW 0hr 29mins

$39.95 BUY IT NOW 0hr 33mins

$25.0 0 bids 0hr 35mins

$35.0 BUY IT NOW 0hr 51mins
disclaimer
Categories: fashion fashion week new york fashion week
Tags: