Alexis Bittar | Justin Guinta | Tory Burch
Earlier this month you've seen amazing diy Lady Gaga Barbie dolls by a crafty individual, and now Barbie is getting more love from 12 Council of Fashion Designers of America members. Mattel recently introduced a Barbie Basics doll, who wears a simple little black dress and can be easily accessorized and personalized by their owners with special accessories kits featuring such items as scarves, purses, shoes or jewelry. According to WWD, Mattel has teamed up with CFDA to launch a special initiative to mark the launch of this special Barbie. For instance, the packaging of each Barbie Basics doll features a quip from a CFDA member about the little black dress. The participating designers include Isaac Mizrahi, Rachel Roy, Justin Giunta, Lorraine Schwartz, Alexis Bittar, Monica Botkier, Deborah Lloyd of Kate Spade, Albertus Swanepoel and Devi Kroell.
The special editions will be auctioned on eBay
starting this Thursday, January 28th through February 7th, with an opening bid of $100. The entire net proceeds from the sale of these dolls will benefit CFDA's educational initiatives and scholarship program.
"Each designer expressed his or her individual style by transforming their original Barbie Basics doll into a one-of-a-kind masterpiece," said Stephanie Cota, senior vice president of marketing for Barbie. "The use of unique materials, special fabrics and, in one case, real diamonds, demonstrate how to infuse one's own style and personality by accessorizing."

Steven Kolb, executive director of the CFDA, added: "Because accessories are such a big element to the little black dress, this was a nice opportunity to put our accessories designers front and center."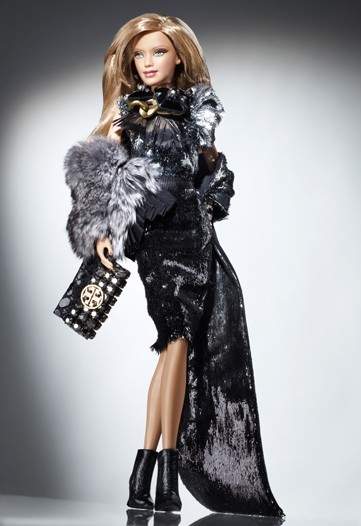 $68.76 BUY IT NOW 0hr 0mins

$15.0 BUY IT NOW 0hr 0mins

$25.4 BUY IT NOW 0hr 0mins

$9.99 BUY IT NOW 0hr 0mins

$20.0 BUY IT NOW 0hr 0mins

$19.9 BUY IT NOW 0hr 0mins

$30.0 BUY IT NOW 0hr 0mins

$9.89 BUY IT NOW 0hr 0mins
disclaimer
Categories: fashion toys/design
Tags: