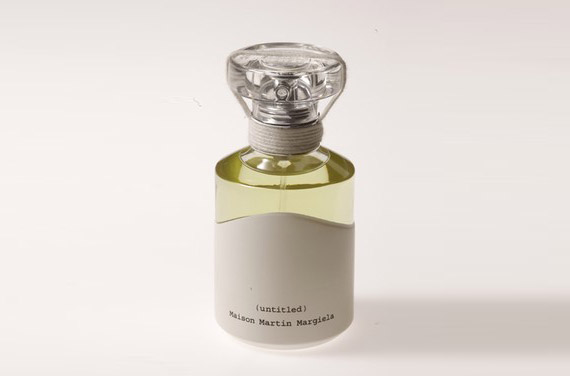 One of my favorites, Maison Martin Margiela released it's first fragrance for women called Untitled, created by Margiela's fragrance license holder L'Oréal. Untitled "is grounded on an entire philosophy, a new way of looking at luxury," said Renaud de Lesquen, president of YSL Beauté, the L'Oréal division that oversees Maison Martin Margela Fragrances. "Let's say it's a kind of alternative to classical luxury or some kind of ostentatious luxury.
According to WWD, Untitled's woody green floral juice was mixed by Givaudan perfumer Daniela Andrier, in which galbanum is the main ingredientr. Othe notes include box green, lentiscus, incense, bitter orange, jasmine and cedar. Fabien Baron, of Baron & Baron, collaborated on the design of the green-colored bottle. He drew inspiration from the fragrance flacons commonly used by perfumers toward the end of the 19th century. Their shape was reworked, and Untitled's bottle was made to look as if it has been dipped in white paint, a leitmotif at Margiela — where even ketchup bottles in the staff cafeteria are painted the color. The typeface on the fragrance's label from a classic Olivetti typewriter, which the house often uses. Historically, each product line in the collection is given a number. Six is the casual line for women, while 10 is clothing for men, for example. Now, three denotes fragrance, so it's circled on the number grid atop Untitled's cap. "We chose not to give [the fragrance] a name," said Pinabel. "Basically, people will love it for what it is and…interpret it in their own way."
Untitled is scheduled to be released worldwide later this month and comes as 30-, 50- and 75-ml. eau de parfum sprays priced in Europe at 55 euros, 80 euros and 100 euros, respectively, or $79.70, $115.90 and $144.90 at current exchange. There is also a 200-ml. body lotion and a 200-ml. shower gel each for 30 euros, or $43.45.
I'm quite interested in smelling the scent, will need to check it out when it releases!
Categories: beauty
Tags: