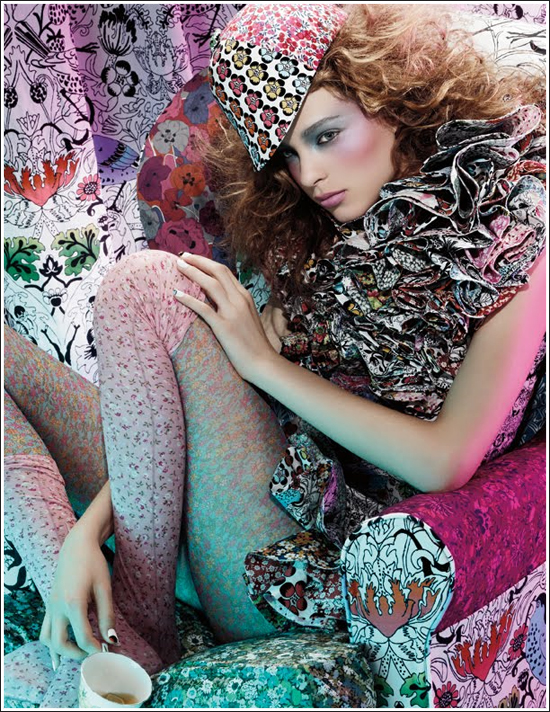 Just when I thought Friday will be slow news day, it's packed full of surprises! Liberty of London is making rounds in collaborating with different brands, up next is a beauty collection with MAC Cosmetics! Thanks to Temptalia, we have the first look at what to expect from the collaboration and I simply can't wait! This preview is not the full collection but at least you get a feel of what's going to be released, the beauty image looks amazing (want that hat!). Aside from all the fabulous makeup, there will also be makeup bags and a scarf too! The collection is slated to release in the US on March 11, 2010 and international launch date is April 2010. Are you excited? Stay tuned for more images…
The very latest in a series of famous M·A·C collaborations, it was only a matter of time before the demure-to-daring kaleidoscopic prints of Liberty of London coloured our world with Brit wit and bohemian chic. From the unstudied, Sienna Miller style of Spitalfields Market to the grit-and-glamour of Portobello Road, the swinging London girl has always been an unstoppable M·A·C makeup force! Spring 2010 insists on the ultimate flower fusion, with M·A·C joining forces with Liberty, creating cool Britannia compacts and Lipsticks, Eye Shadows, Powder, Blush, Nail Lacquers and, of course – blushing, bountiful, quite British accessories.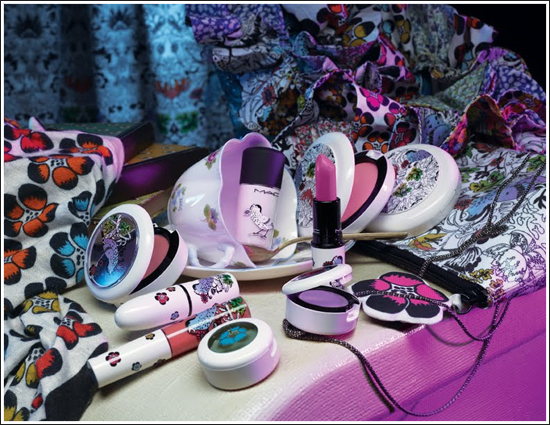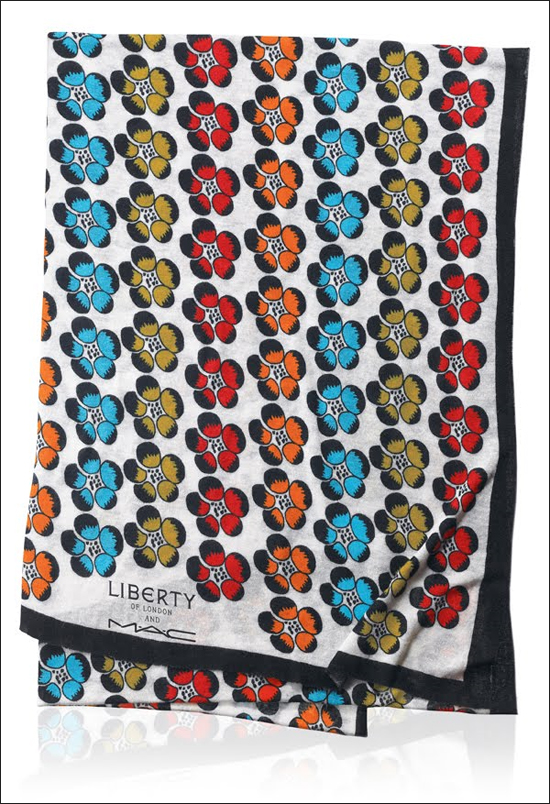 Liberty of London Scarf ($95.00 U.S. / $115.00 CDN)
A limited-edition scarf designed with an exclusively created floral pattern for the Give Me Liberty of London collection. Rows of coral, orange, yellow and blue flowers form a repeating pattern on a white background. The fabric is a soft wool/viscose blend. Made in Italy. Measures 27? x 82?.

Lipglass ($14.00 U.S. / $16.50 CDN)
Frankly Fresh Neutral pink beige with soft pearl (Limited Edition)
Perennial High Style Creamy bright pink coral (Limited Edition)
English Accents Creamy mid-tone blue pink (Limited Edition)
A Different Groove Deep purple brown with pearl (Limited Edition)
Lipstick ($14.00 U.S. / $16.50 CDN)
Ever Hip Creamy light coral (Cremesheen) (Limited Edition)
Peachstock Neutral peach (Satin) (PRO)
Petals & Peacocks Creamy bright magenta pink (Amplified) (Limited Edition)
Blooming Lovely Creamy greyed lilac mauve (Amplified) (Limited Edition)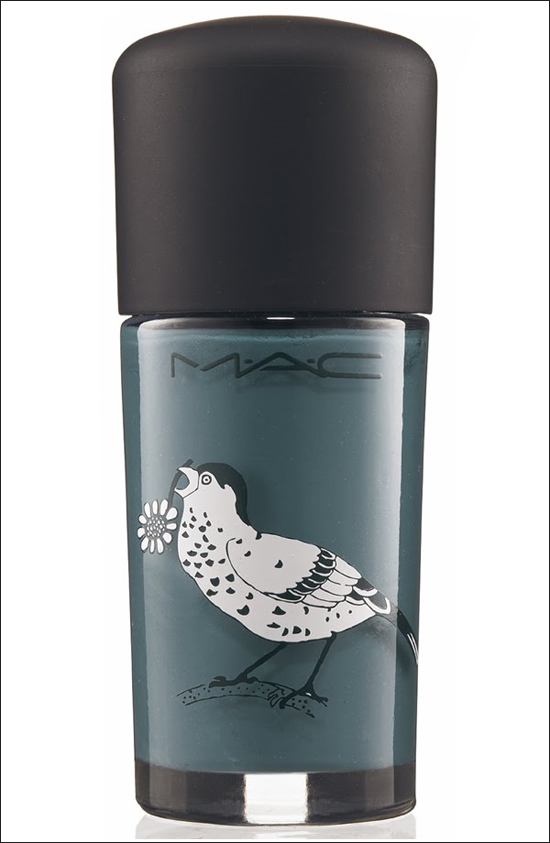 Nail Lacquer ($12.00 U.S. / $14.50 CDN)
Blue India Dark green blue with pearl (Cream) (Limited Edition)
Vestral White Creamy white (Cream) (Limited Edition) (Repromote)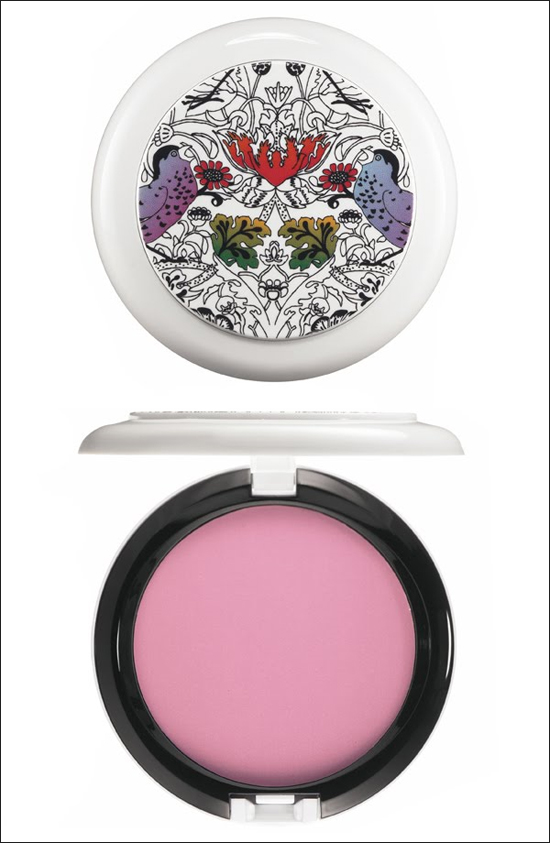 Beauty Powder ($25.00 U.S. / $30.00 CDN)
The luxurious, soft pearl finish of M·A·C Beauty Powder packaged in a glossy white compact. Lid is decorated with an exclusively created flower and bird pattern for the Give Me Liberty of London collection. Limited edition.
Shell Pearl Pale peach with gold pearl (Limited Edition) (Repromote)
Summer Rose Soft violet pink with pearl (Limited Edition) (Repromote?)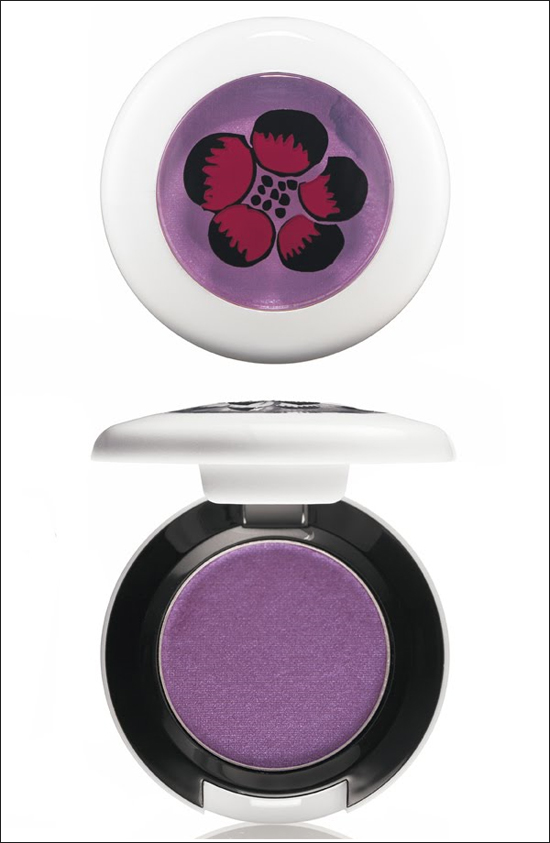 Blush ($18.50 U.S. / $22.00 CDN)
Dirty Plum Sheer dark plum (Limited Edition)
Prim & Proper Neutral nude (Limited Edition)
—-
Eyeshadow ($14.50 U.S. / $17.50 CDN)
Give Me Liberty of London Flat creamy pink (Matte) (Limited Edition)
Free to Be Creamy true coral (Matte) (Limited Edition)
Dame's Desire Frosty mid-tone reddish purple (Frost) (Limited Edition) (Repromote)
Birds & Berries Frosted dark green blue (Veluxe Pearl) (Limited Edition)
Bough Grey Mid-tone bluish grey (Satin) (Limited Edition)
Categories: beauty
Tags: