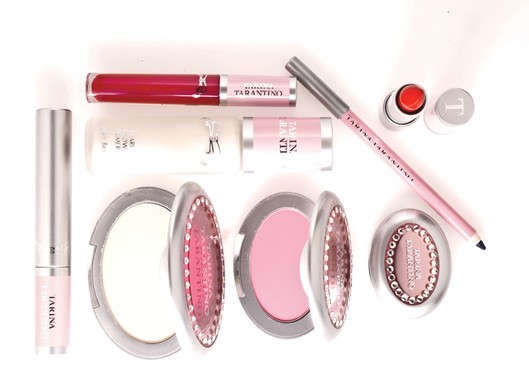 Last month you've see the first look at Tarina Tarantino's beauty collection, here's another preview of the lineup which is slated to launch at www.sephora.com in February and in Sephora stores in March.
According to WWD, the core collection includes 24 shades of Eye Dream Hypershadow, a pressed eye shadow formula with high pigment payoff; three shades of Magic Hour Cream Shadow, which are water resistant, crease-resistant eye shadows; 13 shades of Eye Dream Hyperliner, a waterproof eyeliner; Fleur De Lash, a thickening mascara in one shade; 12 shades of Gem Gloss, a plumping and hydrating lip gloss; 12 shades of Conditioning Lip Sheen, a lightweight lipstick; five shades of Dollskin Cheek, a long-lasting blush; eight shades of Dollskin Powder, a micronized, buildable compact powder; Sparklicity Shimmer Dust for the body and hair; Sparklicity Pure for the eyes, lips and cheeks; Pearl Glow Primer; a five-piece brush set, and a powder-blush brush. Limited edition fashion-trend color collections will be brought to market twice a year, noted Tarantino. Prices range from $17 for each Eye Dream Hyperliner to $69 for a five-piece brush set.
"[Tarina] sees her line not only as a well-designed makeup collection, but as an accessory," said Sharon Rothstein, senior vice president of marketing for Sephora, noting that the line's silver and pale pink packaging is finished with Tarantino's signature rhinestones. "We think it will appeal to girls of all ages. What is so appealing is that it has a sense of optimism and whimsy."
I simply can't wait till the collection launches, so pretty!
Categories: beauty
Tags: