Urban Decay (L) and OPI (R)
Lots of good news on the beauty side today, so decided to do a beauty roundup rather than posting each one separately. Get pretty!
Alice in Wonderland seems to be popular amongst the beauty brands right now, Disney Consumer Products approached Urban Decay and OPI resulting in two beauty collections inspired by the upcoming movie. According to WWD, the collections interpret the characters in director Tim Burton's take on the Lewis Carroll book "Alice's Adventures in Wonderland".
"Burton is dark and edgy, yet everything he does is really beautiful at the same time," said Wende Zomnir, Urban Decay's creative director and co-founder. "I felt it was a perfect match for Urban Decay to do a palette based on his vision."

"Everybody wants to be somebody. If they like an actor or actress, they can associate a nail lacquer with their character, and it gets them closer," Suzi Weiss-Fleischmann, OPI executive vice president and creative director said. "These collaborations draw the consumer more and more to a movie and a [nail lacquer] color."
Urban Decay created a limited edition palette, a "Alice in Wonderland" version of Urban Decay's Book of Shadows products, covered in a pattern with teapots and cups, and opens to reveal a pop-up drawing of Alice, recently shrunken by the "drink me" bottle contents, in the mushroom forest. Inside, there are 16 shadows with "Alice in Wonderland"-related names, such as a bright blue called Alice, and a white shade called White Rabbit, as well as two travel-size 24/7 Eye Pencils and one 0.13-oz. Eyeshadow Primer Potion. The palette retails for $52 and will be sold at Sephora, Ulta and Macy's.
OPI created four nail lacquers in the "Alice in Wonderland" set: Absolutely Alice, a blue glitter; Thanks So Muchness, a red shimmer; Off With Her Red, a vivid red, and Mad as a Hatter, a black multiglitter shade. Each retails for $8.50 and will be released this month, available at Ulta, J.C. Penney, Dillard's, Pure Beauty, BeautyFirst, Chatters, Regis, Trade Secret and Beauty Brands.
More pics and info after the jump…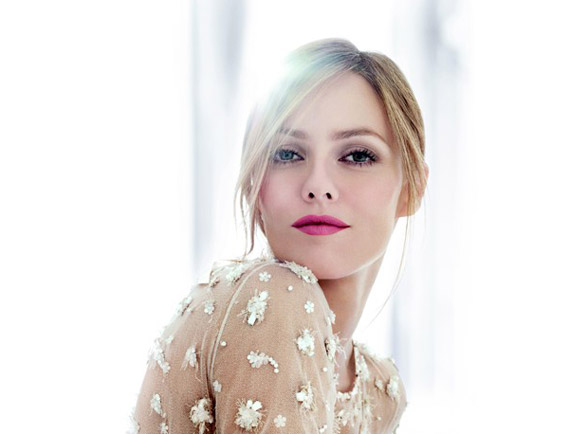 How many of you guys use lipstick on a daily basis? I can tell you, I don't use lipstick at all, I'm a lipgloss girl. WWD reports that Chanel executives believe now is the right time to seduce consumers back into the habit of using lipstick with a new long-lasting and hydrating collection called Rouge Coco Hydrating Creme Lip Colour. The Rouge Coco collection consists of 30 shades, each named for a part of Gabrielle "Coco" Chanel's life, such as Mademoiselle, a soft pink; Camelia, a deep rose, and Paris, a bright red. The colors are broken down into four color families: Roses-Pinks; Reds-Corals; Violets-Berries, and Neutrals-Browns, each $30 and is schedule to launch in March.French actress Vanessa Paradis is featured in the ads.
"Rouge Coco is one of the most important launches from the House of Chanel in 2010," said John Galantic, Chanel's U.S. president. He asserted that the new product will develop into "an iconic new makeup pillar" for Chanel.Rouge Coco, which will launch in March, is intended to become one of the brand's lipstick pillars and will replace the existing Hydrabase line, said Andrea D'Avack, president of Chanel Fragrance & Beauté.
—-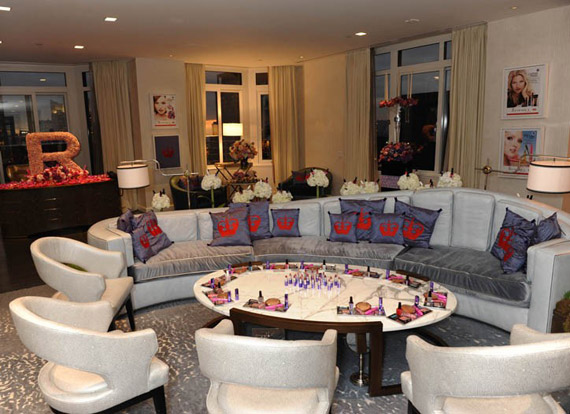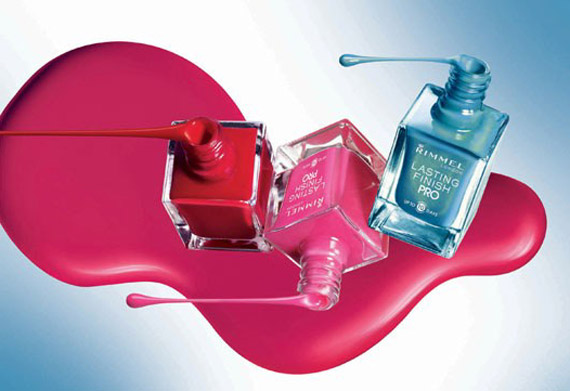 WWD reports that Rimmel London is launching its largest number of new items ever this year with new products in the eye, face, lip and nail categories. For the eyes, there is a new mono eye shadow called Glam Eyes, with bold colors including spicy bronze, posh peacock, royal violet and celestial sapphire with high impact. The pressed powders are embossed with a quilted pattern with Rimmel London's signature crown. A new mascara called Max Volume Flash featuring a formula enriched with collagen to fatten lashes and Keratin for stronger, sleeker, shinier lashes. For the face, there's new Lasting Finish Blendable Blush, offered in four shades and the Blendable Blush; Highlighter, comes in trip palettes; and Sun Shimmer Maxi Bronzer for face and body. For the lips, new Moisture Renew Lip Colour with SPF 18 formula and a cutting-edge Self Adapting Moisture Complex featuring hyaluronic acid, collagen and vitamins A, C and E to nourish lips. There are 24 shades in an elegant metallic purple case. And also, Royal Gloss, wet-looking gloss available in pearly shades in scents of bubble gum, chocolate and peach. Finally for nails there's Lasting Finish Pro Nail Enamel available in 31 colors and said to last up to 10 days.
—-
$24.98 0 bids 14hr 29mins

$430.0 BUY IT NOW 1hr 38mins

$399.0 BUY IT NOW 18hr 49mins

$285.0 BUY IT NOW 18hr 36mins

$195.0 0 bids 0hr 18mins

$149.99 BUY IT NOW 5hr 57mins

$149.95 BUY IT NOW 18hr 6mins

$97.0 BUY IT NOW 13hr 57mins
disclaimer
Categories: beauty
Tags: