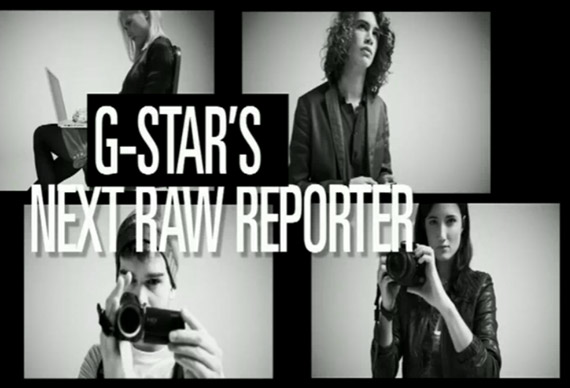 If you've been looking forward to attending New York Fashion Week, here's your chance! G-Star Raw is searching for the world's best Tweeters, Flickrs, Facebookers and YouTube film-makers to file raw reports live from the most exciting fashion week in the world. Sitting front row at G-Star Raw with celebrities, makes me want to join haha. But then again I'm not the "best" at any of the four categories lol! Better brush up the skills now!
Sign-up through G-Star Raw's new site, nyfw.g-star.com for consideration and sign up with your social media account. The winners will be chosen by their adoring public; the writer, photographer or film maker with the most votes wins (although G-Star Raw will reserve the right to take a few wildcards along too if talent allows it). The winning rookies will be sent to New York and issued with press passes for the G-Star Raw show – with front row seats, back stage passes, after-show party invitations and a mandate to mingle with the glitterati.
The sign-up process on nyfw.g-star.com runs directly through Twitter, Facebook, YouTube and Flickr to make signing up as easy as possible. By making smart use of the social network's open APIs, aspiring reporters are able to sign in to their social media account and select existing content for submission or directly upload new material to their profile.
New York Fashion week is February 11th to 18th. The deadline for entries is February 1st. Winners will be announced on www.g-star.com in the first week of February. Good luck!
$18.0 BUY IT NOW 0hr 1mins

$22.0 BUY IT NOW 0hr 1mins

$18.0 BUY IT NOW 0hr 1mins

$17.0 BUY IT NOW 0hr 1mins

$24.99 BUY IT NOW 0hr 3mins

$29.0 BUY IT NOW 0hr 3mins

$34.9 BUY IT NOW 0hr 3mins

$19.99 BUY IT NOW 0hr 4mins
disclaimer
Categories: fashion fashion week
Tags: