For those of you that have asking me (I received mine from Hellz in September) about the Hellz Bellz x Miss Wax Brawlin' Ring, its finally available at Karmaloop! The ring  is 18 gram brass based double finger ring with 14k heavy gold plating; high polished and engraved with Hellz Bellz and Miss Wax encryptions on the inside of each finger; shipped in custom Miss Wax hinged ring box. Retails for $112, available in sizes 6 and 7. Cop it at Karmaloop.
Also, just a reminder that this is the last week to enter the nitro:licious x Karmaloop Holiday Giveaway. All winners will be announced after the giveaway ends. Thanks for being patient.
Entering the giveaway is easy: subscribe to Karmaloop's weekly email newsletter (click on link) which will automatically subscribe you to nitro:licious' weekly email newsletter as well, and fan nitro:licious on Facebook (click on link). Good luck.
Giveaway Starts: Tuesday, December 1, 2009 – Now
Giveaway Ends: Friday, December 25, 2009 – 11:59pm EST
Update 01.04.2010: Giveaway has ended, thanks for entering. Winners are announced here.
More pics after the jump…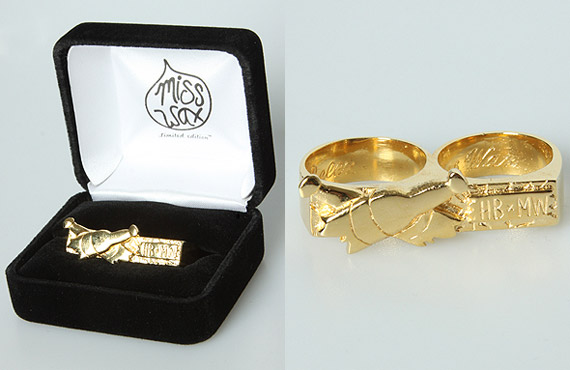 Categories: jewelry/accessories shopping
Tags: