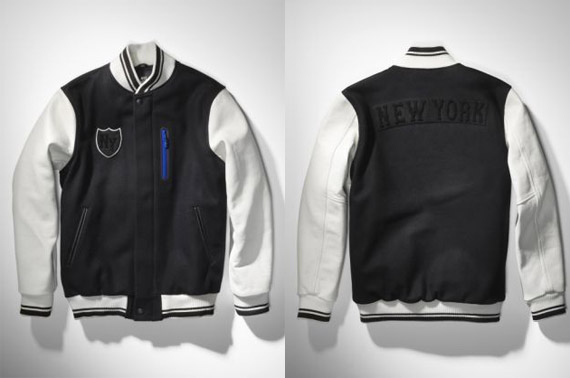 On Monday I posted a sneak peek + release date and info on the NSW Destroyer Jacket, here's the full look and additional info. This NSW DESTROYER represents the spirit of competitive sport in tribute to this great city that Nike Sportswear finds its home on Mercer Street, New York. The jacket is slated to release this Friday, December 18th, at 21 Mercer. Limited to 21 jackets only.
This letterman jacket features part peacoat warmth, part bomber tough, the two-toned letterman has a certain presence that commands respect. It's storied. Earned. Then Nike Sportswear set its sights on perfecting this century-old icon of athletic apparel. The Destroyer varsity jacket stays true to the classic silhouette, but when you see the bonded chest zipper, you know. And when you slip it on, you know. When rain bounces off it, you know. It's all about craftsmanship. Top quality. High scorer. Senior power.
Love me a dope varsity jacket!
More pics after the jump…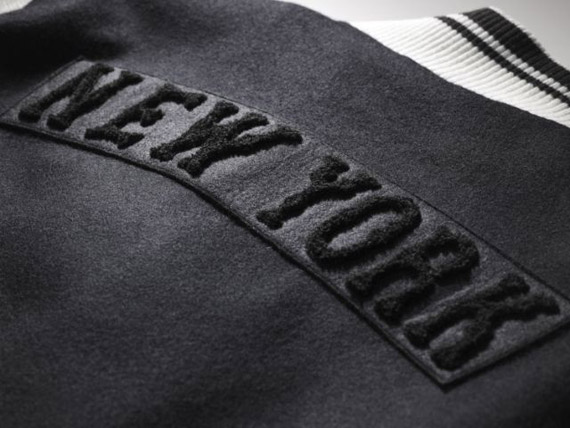 NSW DESTROYER
– Pre-softened leather sleeves for classic letterman looks.
– Two-layer water repellant body (including wool) keeps the rain out.
– Thermore® fill in body for maximum warmth, minimum weight.
– High-grade nylon lining with targeted Sphere technology.
– Signature film-finished bonded reverse-coil zip at chest.
– Split-zip hoodie with NSW chenille lettering inside (women's only).
ATHLETICS WEST DESTROYER
– Satin body backed with weather-resistant laminate.
– Signature film-finished bonded reverse coil zip at chest.
– Striped ribbing at neck and waist keep cold out and heat in.
– High-quality chain stitch graphic at back and embroidered patch at right chest.
– Dri-FIT quilted liner wicks moisture.
Categories: fashion streetwear
Tags: