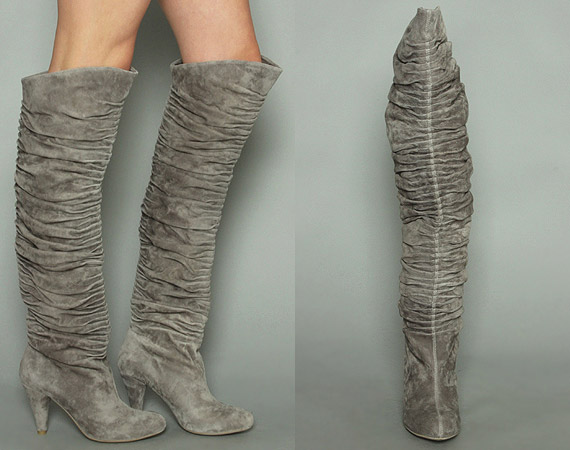 Remember back in September when I posted up the LF look book and these Jeffrey Campbell "Braid" Suede Over-the-Knee Boots wear featured? Well, they're finally available at Karmaloop.com, and no I do not own a pair. These boots feature shirring and an asymmetrical top line with 4″ heel, retails for $272. Quite cute for winter.
Also for those that didn't enter the nitro:licious x Karmaloop Holiday Giveaway yet, we're currently in week #3! Here's your chance to win $400 Karmaloop credit to shop! I've decided to announce the winners all at once after the giveaway ends. Thanks for being patient.
Entering the giveaway is easy: subscribe to Karmaloop's weekly email newsletter (click on link) which will automatically subscribe you to nitro:licious' weekly email newsletter as well, and fan nitro:licious on Facebook (click on link). Good luck.
Giveaway Starts: Tuesday, December 1, 2009 – Now
Giveaway Ends: Monday Friday, December 25, 2009 – 11:59pm EST
Update 01.04.2010: Giveaway has ended, thanks for entering. Winners are announced here.
$28.13 BUY IT NOW 0hr 9mins

$15.0 BUY IT NOW 0hr 17mins

$60.0 BUY IT NOW 0hr 36mins

$95.0 BUY IT NOW 1hr 32mins

$54.0 BUY IT NOW 1hr 37mins

$60.0 BUY IT NOW 1hr 44mins

$44.95 BUY IT NOW 1hr 45mins

$75.0 BUY IT NOW 1hr 45mins
disclaimer
Tags: