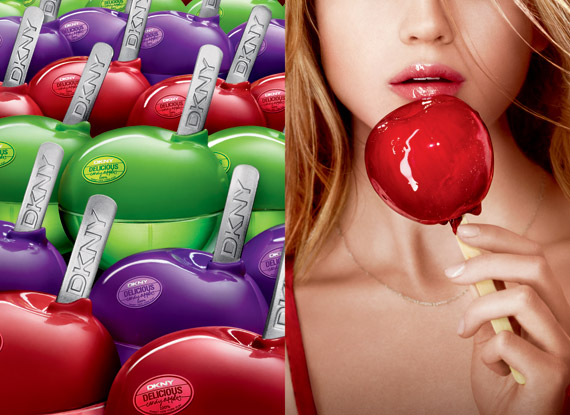 A few months ago I was invited to the DKNY beauty office to preview the DKNY Delicious Candy Apples fragrance collection. The Delicious Candy Apples further expands the Delicious portfolio with three new yummy scents: Sweet Caramel, Ripe Raspberry and Juicy Berry. These candy apple-shaped fragrances is packaged in the iconic Be Delicious apple, colored by flavor with an old-fashioned stick emblazoned with the DKNY logo jutting out of the top. Super cute right? And they all smell delicious too, I'd totally just get them for display as well. All three scents are delicious, but my favorite is the Juicy Berry (purple). Love the ad too!
Creating a candy apple is about pairing the sweetness of candy with a juicy, ripe apple. You bite into a delicious candy shell, only to be greeted with the fresh crunch of a sweet apple center. DKNY has perfected this pairing and made three new candy apple fragrances. Using the very best ingredients and juiciest notes – each fragrance is sure to satisfy the sweet tooth in you!
The limited edition Delicious Candy Apples Collection will be available in Sephora beginning in January 2010, and retail for $55.00 each. The Collection will also be available online at DKNY.com. Can't wait till the collection releases!
More pics and info after the jump…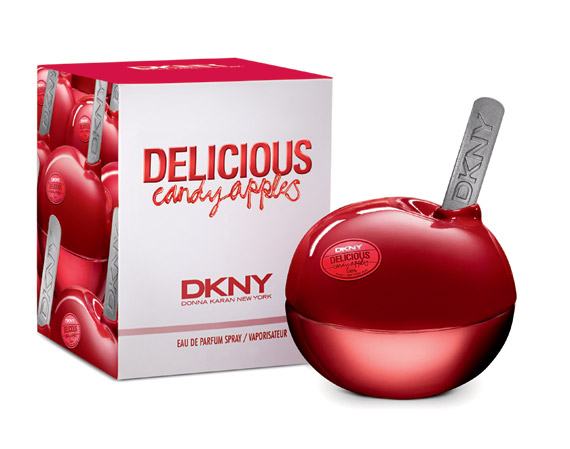 Ripe Raspberry
Ripe luscious raspberries trickle a sweet glaze over crisp crunchy apples and effervescent lime. Their yummy juices are cushioned by fluffy peonies and sweet lilies before bursting with fragrant fizziness from a delicious cola accord. Simply red, simply yummy.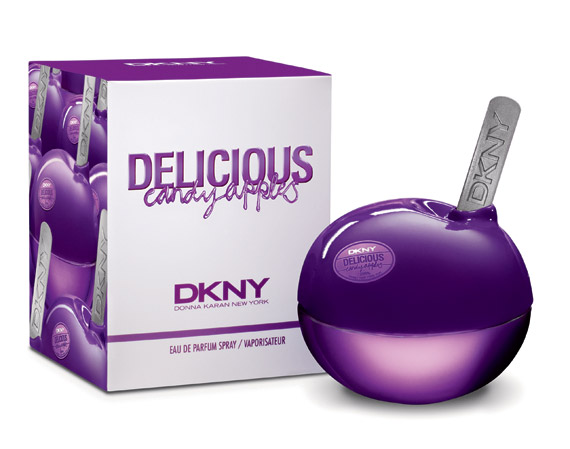 Juicy Berry
Have a feast with plump little black currants and fat juicy blackberries. Fleshy pears and luscious lychee add to the mouth watering mélange. A fruity cocktail of nectar flows over velvety soft rose petals and deliciously delicate apple blossom. The fragrance finishes with a creamy layer of scrumptious sandalwood and sugary blonde woods. Juicy Berry is very berry, very DKNY.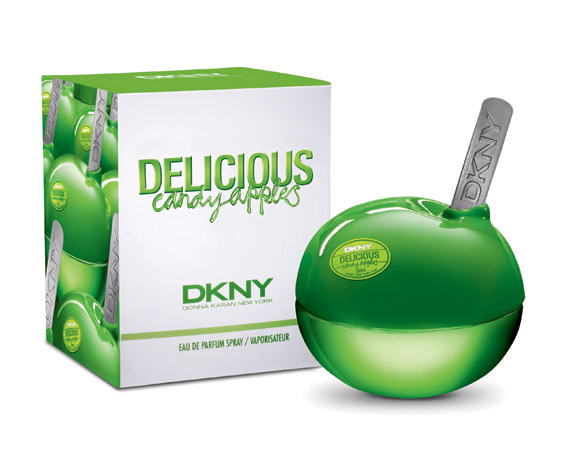 Sweet Caramel
A whimsical candied fusion drizzles with luscious fruits, delicious flowers and mouth watering edibles. Tantalizing candy apple & pear tease you with temptation. A soft kiss of marshmallow is pure comfort. Decadent jasmine petals flirt with delicate muguet while velvety violet leaves add sparkle with an edge of green freshness. The fluid charm of creamy caramel is addictive as it liquefies with whipped vanilla. Satiate your sweet tooth with its playful seduction.

$20.5 22 bids 0hr 24mins

$51.55 BUY IT NOW 1hr 8mins

$18.75 BUY IT NOW 1hr 25mins

$44.99 BUY IT NOW 2hr 7mins

$53.91 BUY IT NOW 2hr 20mins

$53.91 BUY IT NOW 2hr 34mins

$32.5 BUY IT NOW 3hr 39mins

$37.53 BUY IT NOW 3hr 48mins
disclaimer
Categories: beauty
Tags: