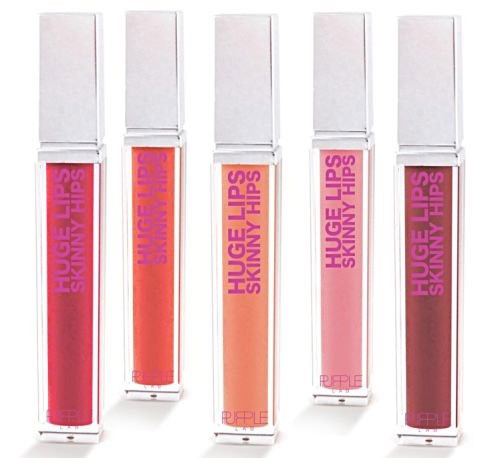 Purple Lab is launching on Home Shopping Network (HSN) and to celebrate they are looking for a model online, someone who will come to Florida with Karen Robinovitz to show off Purple Lab's new products. Remember, Huge Lips Skinny Hips, a lip plumping gloss enriched with hoodia? The exclusive collection of products for HSN marks the first expansion of Purple Lab. The collection will consist of six new products which will debut on HSN with four prime-time shows between February 18th-20th and feature Purple Lab founder Karen Robinovitz.
New products includes: Lashionista Modelista (mascara and liquid liner duo), Silk Sheets (luxe foundation), Luvah (double plumping lip stain with glossy topper and aphrodisiacs), Luxury Squared (concealer and highligher in one), and Cheek Implants (cream blush with collagen). Purple Lab will debut on HSN on February 18th at 9am with additional shows on February 18th at 8pm, February 19 at noon and 7pm and February 20th at 2am (all times EDT). The entire collection will be available online at www.hsn.com, beginning a few days prior.
"The DNA of Purple Lab is chic, innovative and fun – products with a sense of humor and double duty ingredients – perfect for the HSN customer who is focused on products and their benefits. Being on HSN was the dream from day one – it's the best way to communicate what your brand is about without the dilution of a retail floor. It will also be a new forum for Purple Lab fans," says Robinovitz.
Enter the contest through February 1, 2010 on www.purplelabnyc.com/hsnstar, you might just get lucky!
Categories: beauty
Tags: