Photos courtesy of Diesel
This spring/summer, Diesel returns to its rock roots with a 'Rockin' Dots' collection featuring studs, dots and perforations. The Diesel Creative Team, headed by Creative Director Wilbert Das, unveils the brand's bold soul once more for this heavy on the metal collection. For the women's collection there's skinny black pants, micro studded backless tops and dark denim skirts with matching jackets. By day, striped jersey dresses with macro dots, long zipped vests and quilted leather jackets, while evening brings dark denim sprinkled with sequins. Other highlights include rebellious versions of orchestra jackets and knitted dresses worn under light oversized shirting. Rock inspired accessories include, sequinned and studded shoes which takes inspiration from the original punks with perforated boots in supple suede. Bags are borrowed from boyfriend's closets with nylon backpacks and messenger styles being a key feature of the "Rocking Dots" collection.
For men, perforated leather pants, knitwear and shirting laser-cut with the collection's signature dots; t-shirts and hooded sweaters with micro studding, under light weight nylon jackets; rock-infused metallic anoraks and black basics convey the dark inspiration behind the collection with viper green accents on tops and pants. Rock inspired accessories include, "vintage" bleach treated sneakers and perforated trainers in metallic leather.
More pics after the jump…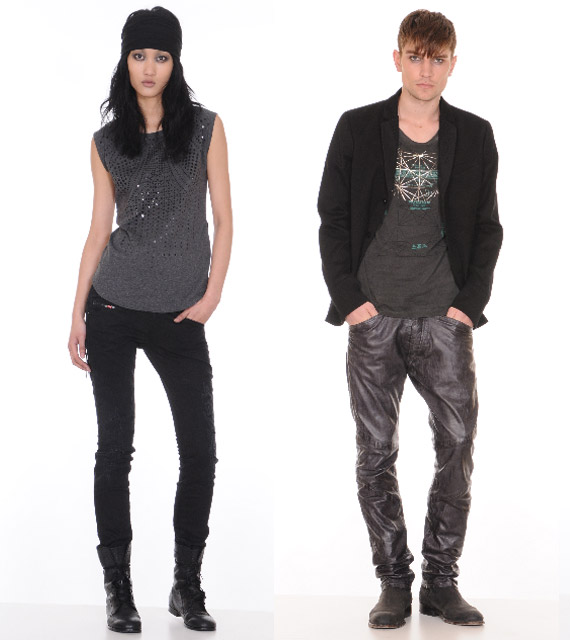 $593.73 BUY IT NOW 0hr 0mins

$29.99 BUY IT NOW 0hr 0mins

$186.44 BUY IT NOW 0hr 0mins

$235.0 BUY IT NOW 0hr 0mins

$30.65 BUY IT NOW 0hr 0mins

$35.0 BUY IT NOW 0hr 0mins

$60.0 BUY IT NOW 0hr 0mins

$25.0 BUY IT NOW 0hr 0mins
disclaimer
Tags: