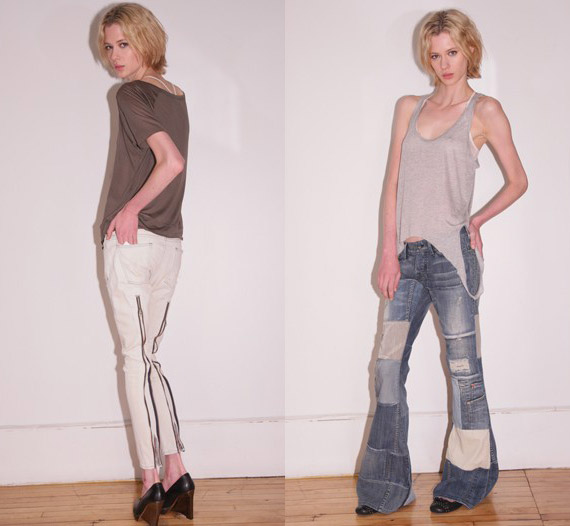 Exposed zipper skinny jeans from the D.I.Y. group and resurrection jeans
Come spring Los Angeles-based denim label, Hudson Jeans, will launch a higher-end jeans collection. The new collection will have a lot of details and for the first collection in spring it is broken into four groups: minimalist, resurrection, D.I.Y. and subversion, according to WWD. Each group has a range of silhouettes, including skinny, baggy skinny, high-waisted skinny or flare. Besides denim, there will also be a range of jersey tops to compliment the jeans. The collection wholesales for $100 to $450 for jeans and $65 to $85 for tops and stockists includes Barneys New York and Jeffrey New York.
More info after the jump…
In minimalist, the jeans are constructed in what Taverniti called the fabric's "purest state," in a palette of black, white and dark blue unwashed denim. Subtle accents appear throughout this group, such as in the stitching on the leg to create a quilting effect or the darted back on a pair of skinny-leg jeans.

In resurrection, each pair is one of a kind, since the denim fabrics used for this group are recycled from the Hudson archives. Old samples are torn up and put back together into new styles, and the positioning and placement of each of the denim panels is random. For example, a signature Hudson flap back pocket from an old pair of Hudson jeans may be placed on the leg of a pair in the resurrection group.

In D.I.Y., the group has a handmade quality, with exposed-zipper flies, darts and cut-off waistbands. Jeans are designed in distressed denim washes and rough details are seen throughout, such as with raw edges on leg openings and exposed hardware. In subversion, the group is a salute to military-inspired styles, such as skinny cargo pocket jeans in colors like army green and jet black.
Tags: