Photos courtesy of Target
It's December and we still do not have a full look at the Rodarte for Target collection, so far we've only seen snaps from here and there but InStyle finally has a few of the look book images. These pieces were already seen previously, I'm hoping to see new pieces soon. In about 3 weeks, on December 20, 2009 to be exact, the much anticipated capsule collection will launch at Target stores nationwide and on target.com through February 6, 2009. Thanks to reader lucy92 for the tip.
Are you planning to shop this collection or are you going to sleep on this one?
See all posts on: Rodarte for Target
Update: Added another scan from People Magazine, thanks to reader lucy92 for the image. Peep below…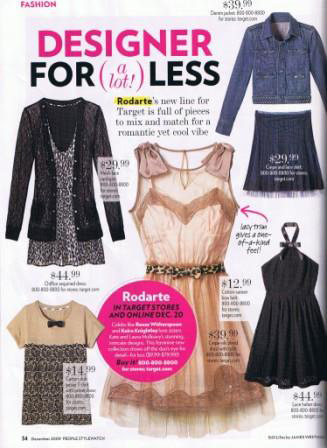 $12.6 BUY IT NOW 2hr 34mins

$78.0 BUY IT NOW 4hr 39mins

$1050.0 BUY IT NOW 11hr 56mins

$24.0 BUY IT NOW 13hr 4mins

$85.0 BUY IT NOW 13hr 57mins

$65.0 BUY IT NOW 14hr 0mins

$23.88 BUY IT NOW 20hr 43mins

$1500.0 BUY IT NOW 12hr 44mins
disclaimer
Tags: