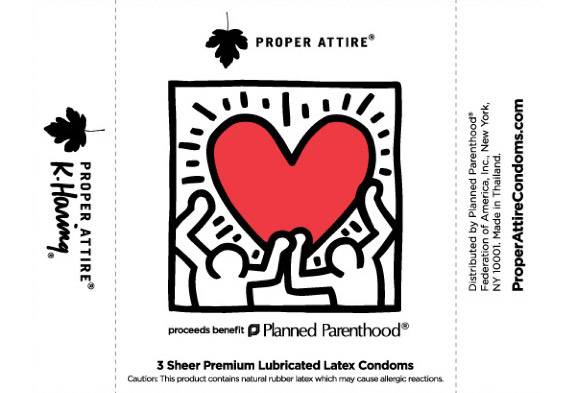 Keith Haring Foundation, Planned Parenthood and PROPER ATTIRE collaborated in honor of World AIDS Day. Together, they have created a limited-edition condom that now makes it creative and chic to use protection. Keith Haring for PROPER ATTIRE condoms will premiere December 1, 2009, at the exclusive Mondrian in South Beach, throughout Art Basel, Mondrian in Los Angeles and the new Kiki Di Montparnasse store. The line will also be available for purchase online at www.properattirecondoms.com and www.haring.com. Proceeds from the sales of PROPER ATTIRE condoms benefit Planned Parenthood.
Aside from providing the public with a stylish new way to practice safer sex; the goal of this new fashion item is to change the public's perception of the use of condoms. Planned Parenthood operates more than 850 health centers nationwide, providing medical care and sexuality education for millions of women, men, and teenagers each year. PPFA believes that providing PROPER ATTIRE condoms at Planned Parenthood affiliate health centers and in selected retail channels throughout the U.S. encourages women to have safer sex – in style.
"Not only are Haring's artwork and imagery bold and inventive, but we believe that our collaboration with the Foundation pays homage to Haring's legacy and message to practice safer sex," states PROPER ATTIRE Brand Director, Rachel Molloy.
With increased awareness about the spread of sexually transmitted infections, the practice of safer sex is of the utmost importance. Be safe!
Categories: art/design beauty
Tags: