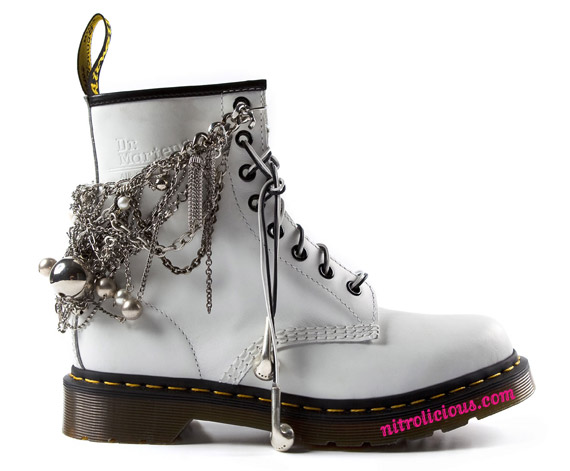 Photos courtesy of Interview Magazine
I've never really been tempted to go to Art Basel at Miami Beach but I might need to take a trip there this year. Why? Read on. Interview Magazine is hosting Art Basel at Miami Beach this year, in honor of Interview's 40th Anniversary they'll be stocking the vending machine along with a number of chic and sophisticated partners. These products will be curated with unique and symbolic retail items to celebrate 40 years of pop culture; one of a kind creations, rare editions, new releases, cult classics and exclusive experiences.
The Semi-Automatic vending machine which is already in?situ at the Mondrian Hotel South Beach since January 2009 is a dispenser of everything luxurious, it takes over an entire wall in the hotel lobby with a sleek and minimalist Japanese design by Ito Partnership. With just a swipe of a credit card, your items of desire are dispensed in sealed bags. My favorite items are the Subversive Jewelry for Dr. Martens (exclusively for Interview) $1400 (super duper hot) and the Vena Cava canvas shoes $20, I'm so tempted to go!
So get your credit cards ready and book your tickets because you won't want to miss out on these limited edition fashion and art-centric items available only for the duration of Art Basel at Miami Beach from December 3-6.
More info and pics of the exclusive items available after the jump…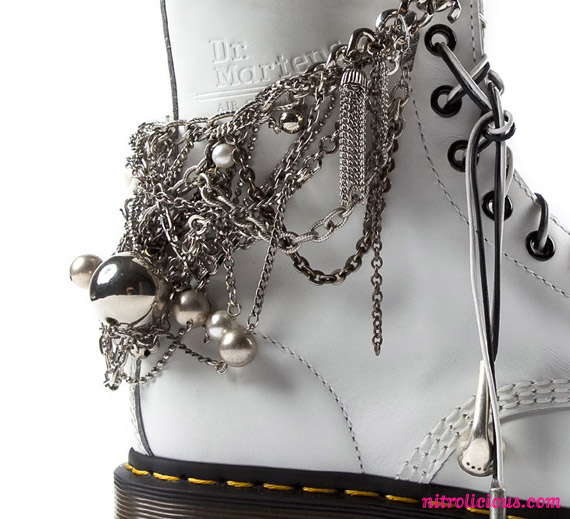 Obsessed with these, going to look for a similar necklace to put on my own combat boots! LOVE!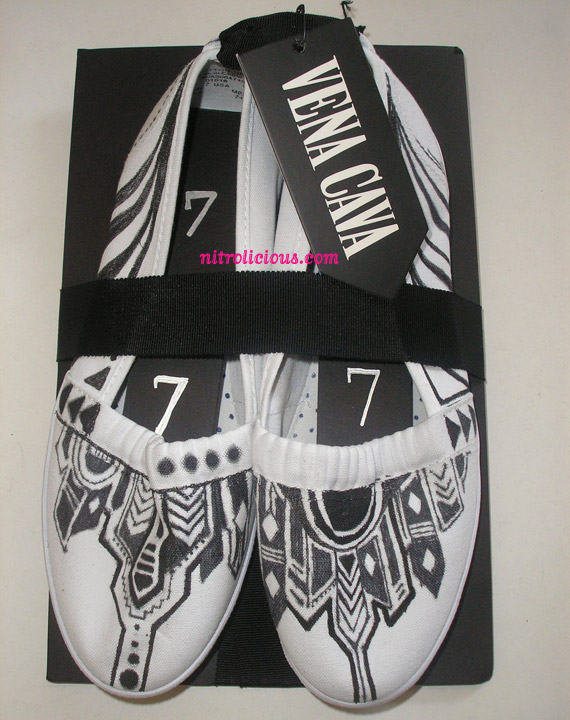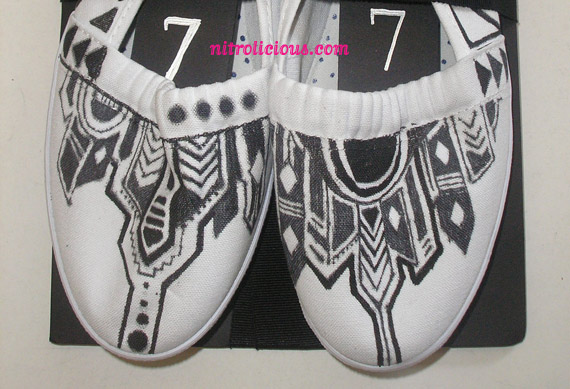 Cute and cheap, for $20 how can you say no?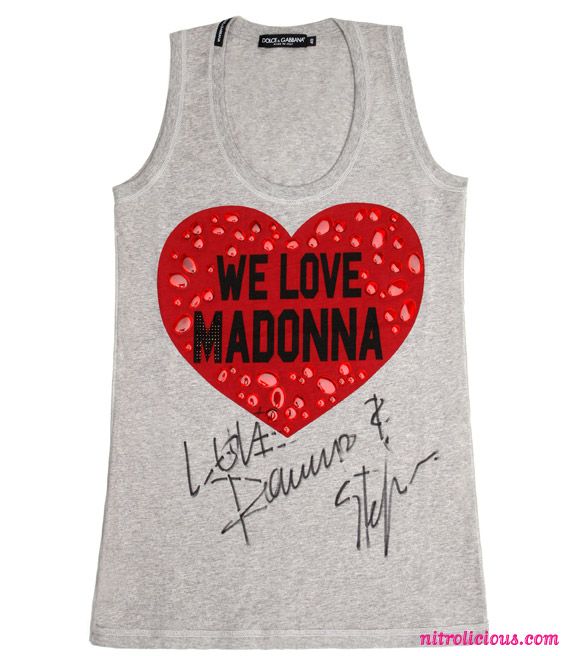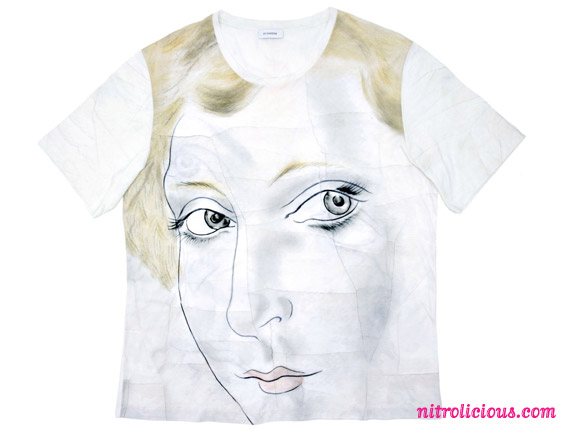 INTERVIEW EXCLUSIVES

DOLCE & GABBANA one–off tank "WE LOVE MADONNA" designed and signed by Domenico Dolce and Stefano Gabbana

DR. MARTENS collaboration with SUBVERSIVE JEWELRY (5 pieces)

RS/SR exclusive preview of the RAF SIMONS and STERLING RUBY collaboration (three unique prototypes)

JIL SANDER limited edition Foujita "Grande Composition" T?shirt, as preview to Men's SS10 collection

FRED PERRY & TREY SPEEGLE pique polo shirt & TREY SPEEGLE signed print

FENTON?FALLON iconic stud/spike ID bracelet

VENA CAVA Limited edition canvas shoes
UNIQUE EXPERIENCES

VIP museum tour of THE ANDY WARHOL MUSEUM

JOHN HARDY Cuff and trip to the JOHN HARDY creative studio in Bali

VINTAGE SHOPPING TRIP with Interview's Contributing Editor, FABIOLA BERACASA in New York City
READY TO WEAR

CALLED2CREATE "The Empowerment T"

GLORY CHEN Trinity shoe

HARIF GUZMAN New York Sex T?shirt

GUCCI & Mark Ronson sneaker collaboration

KIDROBOT Luckies Zipper pulls

LACOSTE Oversized Croc T

MISSONI Twisted Scarf

PORTS 1961 Pearl Embellished cardigan

PRINGLE "Naked People" T?shirt by DAVID SHRIGLEY

PRINGLE "This is for You" T?shirt by DAVID SHRIGLEY

ROCHAMBEAU hand deconstructed jersey tank

RUMBATIME Testtube Watches

TOMS Artist series by Tyler Ramsey
FOR EVERYDAY

BEN & JERRY'S Year Supply of ice?cream

CAFÉ BUSTELO Year's Supply of coffee

EQUINOX "YOUR BODY AS ART" Fitness package

INCASE & ARKITIP Macbook and iPhone case by André

NEW MUSEUM FIRST AID KIT Premium Membership

SPiN NEW YORK Annual Founding Membership

JOOLA custom INTERVIEW ping pong table
READING MATERIAL

SCOTT CAMPBELL Temporary Knuckle and script tattoos

GALLAGHERS COLLECTIBLES Archive issues of INTERVIEW, including Bianca Jagger Jan 1973, George Michael October 1988, Madonna June 1990
NIGHT IN

ARTHOUSE FILMS Painters Painting: New York School 1940?1970

ARTHOUSE FILMS The Cool School: The Story of the Ferus Art Gallery

PROPER ATTIRE Keith Haring condom

SHOWTIME Dexter DVD Season 3
ART

Signed Shepard Fairey print courtesy of THE ANDY WARHOL MUSEUM

ART PRODUCTION FUND "Prop Art" Prada Marfa sign as seen on Gossip Girl

POSTER MUSEUM Set of 4 Andy Warhol CHANEL offset prints

POSTER MUSEUM Cover of ACTUEL magazine featuring Andy Warhol and Jean?Michel Basquiat

POSTER MUSEUM Andy Warhol Brillo Silkscreen

ORIGINAL WORKS BY: Eric Ray Davidson, Jeremy Kost, Luke Barber Smith, Megan Plunket, Lucio Salvatore and Scott King
Categories: art/design fashion home decor jewelry/accessories shoes shopping
Tags: