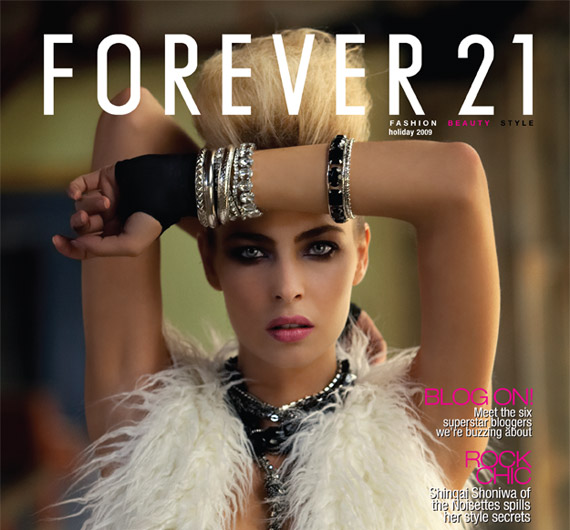 We just got the first look at the cover of Forever 21's fashion/beauty/lifestyle magazine which is slated to launch a week from today! Their main goal in launching this magazine is to reinforce their belief that anyone can achieve a high-end look, no matter what the budget—which has become even more essential today in these tough economic times. Each issue will include two to three features, a fashion gallery of looks with styling tips, coverage of trends available at Forever 21, street style, makeup and beauty tutorials, a lifestyle section including the latest in books/art/music, coverage of noteworthy Forever 21 collaborations, and an interview with a notable VIP.
The magazine will be a seasonal publication, available as a gift with purchase of $40 or more in all Forever 21 stores nationwide, as well as free to view online at Forever21.com. The debut issue is set to hit stores nationwide by November 20, 2009 and Forever21.com the following week of November 23, 2009. Internationally, the magazine will be distributed to Forever 21 store locations in both Korea and Japan.
The debut issue will specifically highlight a celebrity designed t-shirt collaboration, a look inside Forever 21's recently launched cosmetic collection, Love & Beauty, a trend story including interviews with five well-known fashion bloggers, and features showcasing up-and-coming models Georgie of Muse NYC and Jonathan Waud, runner-up on season 2 of Bravo's Make Me a Supermodel. The second issue will hit stores/web around March 1, 2010. Each issue will then continue to roll out every three months.
Can't wait to peep the first issue, stay tuned!
Full cover after the jump…
$18.66 BUY IT NOW 0hr 2mins

$6.3 BUY IT NOW 0hr 4mins

$14.88 BUY IT NOW 0hr 11mins

$24.0 BUY IT NOW 0hr 11mins

$6.04 BUY IT NOW 0hr 11mins

$14.99 BUY IT NOW 0hr 11mins

$12.0 BUY IT NOW 0hr 13mins

$10.0 0 bids 0hr 14mins
disclaimer
Categories: fashion
Tags: