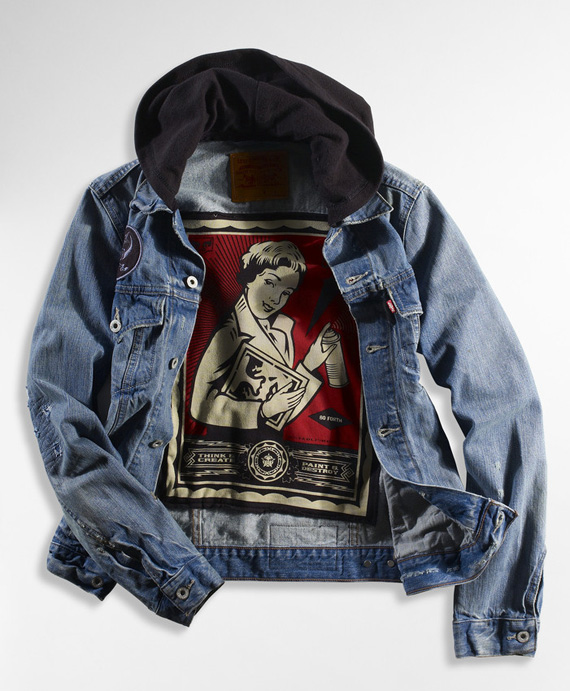 Today, Levi's unveiled a new capsule collection designed in collaboration with Obey, a collection of street-inspired styles for men co-designed by Shepard Fairey. Obey x Levi's is a celebration of the renegade spirit embraced by both pioneering partners and features denim silhouettes, distress details, and finishes inspired by Fairey's personal collection of Levi's jeanswear and collaboratively developed by Levi's and Fairey. The line consists of a tightly-edited assortment of eight essential menswear pieces that showcase fits, finishes, rips, patches and design details selected by Fairey and inspired by his personal collection of Levi's denim. Each piece is a hand-customized original, punctuated by "spray paint" drip details, stenciled art imagery, pins and "wear and repair" finishing touches. The collection is replete with exclusive branding details including an "Obey" Giant tab-device that lives alongside the iconic Levi's Red Tab and a "Two-Horse" rear waistband patch that also includes a stylized "Obey" Giant face.
The capsule collection will be available exclusively at select Levi's Store locations in New York City, San Francisco, Chicago and Santa Monica and at www.levi.com. A limited number of pieces will also be available at www.obeyclothing.com. The collection will be available starting today and will range in price from $34.50 to $148.
To commemorate the launch of the collection, on October 29 Fairey will unveil a series of four new poster designs at a live art installation outside The Levi's Store in New York City's Times Square. Once Fairey completes the installation, he will meet-and-greet event participants while autographing free museum-quality reproductions of his new posters. The series of four limited-edition Shepard Fairey posters will be given away as a free gift, while supplies last, with the purchase of any item from the Obey x Levi's collection in the following Levi's Store locations: Times Square and Soho in New York City, Union Square in San Francisco, Santa Monica and Chicago.
More pics and info after the jump…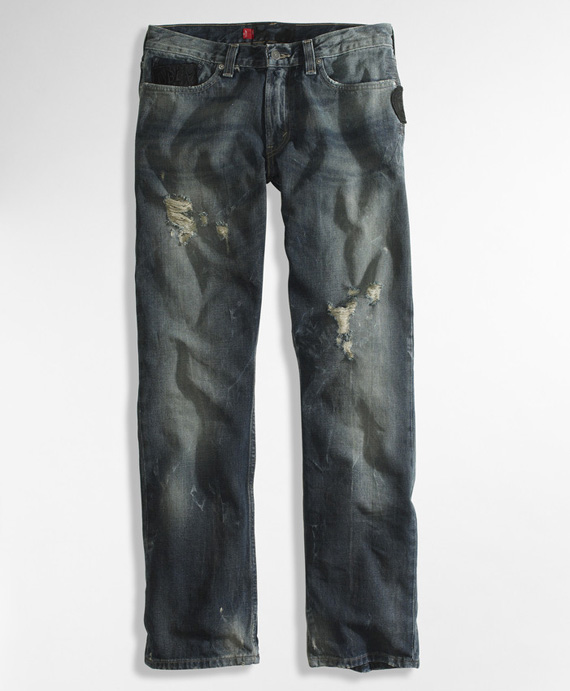 The collection consists of:
• Obey x Levi's® 511 Skinny Jean in black over-dyed denim with various distressed "Obey" patch details.
• Obey x Levi's® 514 Slim Straight Jean –The jeans Fairey wears modernized with a dimensional, textural finish, custom destruction and "Obey" patchwork.
• Obey x Levi's® "Spray It" Trucker Denim Jacket featuring spray-paint drip details, a sewn in black French terry hood, covert interior pockets and custom artwork throughout the interior of the jacket.
• Obey x Levi's® "Bomb" Trucker Denim Jacket, in a black, top-coated, blue denim punctuated by a tonal black spray-painted surface, "Obey" patches, herringbone tape inserts, covert and custom, exclusive artwork sewn into the jacket's interior.
• Obey x Levi's® Overdyed Flannel Woven Shirt, featuring pigment, spray paint and bleach drip details and custom surface patches.
• A series of three Obey x Levi's® super soft, aged t-shirts, each featuring collaborative artwork.
Categories: denim mens streetwear
Tags: