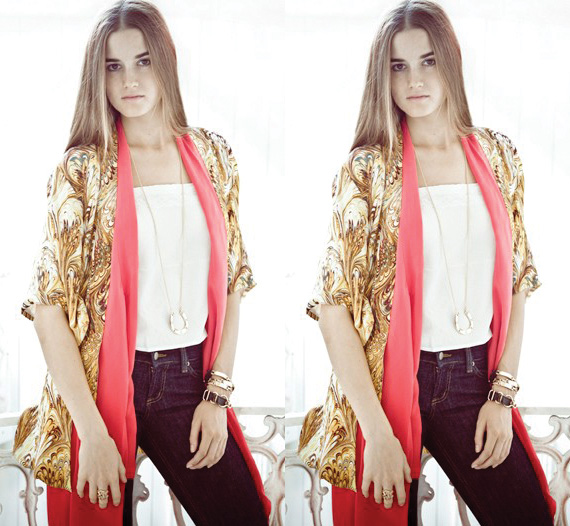 Photography Raquel Olivo
Nicole Richie has already launched a successful accessories line and a maternity line, it was a matter of time she launches a clothing line for women. According to WWD, Nicole launches Winter Kate, a contemporary women's clothing line, which takes her daughter Harlow's two middle names consists of a 37-piece collection will hit stores such as Nordstrom, Bloomingdale's, Neiman Marcus, Saks Fifth Avenue, Ron Herman, Intermix and Kitson, beginning in February 2010. Nicole draws inspiration from her favorite animals, including peacocks and other birds for the line, and includes mostly tops, vests, bed jackets in colorful vintage-inspired silk, crepe and chiffon because these tops are a mainstay of her own wardrobe, long slip dresses, asymmetrical short dresses, tunics and a kimono-sleeved maxidress. The collection wholesale from $35 to $598 and is positioned similarly to her House of Harlow 1960 collection, which now includes shoes for spring. I like Nicole and her accessories collection is nice, I anticipate to see how Winter Kate and her footwear collections turns out.
Both lines, she noted, are aimed at the same customer. "She is a woman like me: She does not look at labels; she knows how to mix and match. The pieces can be dressed up, made casual, but most importantly, they provide the wearer a means of self-expression and fun."
More info after the jump…
"I probably wear the same two pairs of jeans every day as the background to a fabulous top," she said. "Bed jackets are a staple of my wardrobe because they are a gorgeous way to give jeans and a white T-shirt a completely different look."
Also key for spring dressing are "definitely a beautiful, fun slip dress in a great print and also a leather jacket to turn the romantic day dress into an edgy night-out outfit," Richie said.
"I purposely made the slip dresses in both solids and prints," Richie said. "Wear the prints by themselves or with a great vest or jacket and wear the solids as basics to an outfit with many layers."
$12.74 BUY IT NOW 0hr 43mins

$102.0 BUY IT NOW 2hr 23mins

$13.99 BUY IT NOW 4hr 42mins

$25.0 BUY IT NOW 4hr 59mins

$50.0 BUY IT NOW 5hr 2mins

$34.99 BUY IT NOW 5hr 37mins

$30.0 BUY IT NOW 7hr 5mins

$16.95 BUY IT NOW 8hr 39mins
disclaimer
Categories: celebrities fashion
Tags: