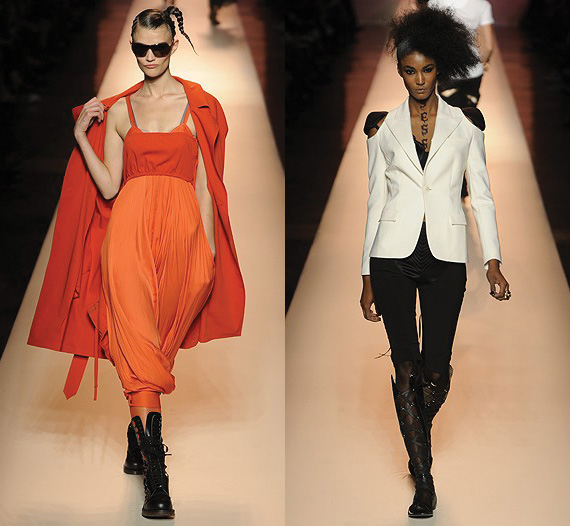 Photo by Giovanni Giannoni [Jean Paul Gaultier Spring 2010]
Last month we reported that Jean Paul Gaultier was rumored to be up next to design a Target collection, today WWD confirms the designer will be the third in its series of Designer Collaborations following the successful release of Alexander McQueen and Anna Sui. According to WWD, Jean Paul Gaultier for Target pays tribute to the American woman, celebrating the forces of style both past and present in American pop culture, the retailer said.
Jean Paul Gaultier for Target is slated to release on March 7, 2010 to April 11, 2010 in more than 250 stores nationwide and on target.com. Gaultier's Designer Collaboration will have a tighter distribution than the last participant, Anna Sui, whose collection was sold in about 600 Target units.
Can't wait to see what the designs look like, I still want those damn Dr. Martens!
$245.0 BUY IT NOW 0hr 0mins

$260.0 BUY IT NOW 0hr 9mins

$350.0 BUY IT NOW 0hr 13mins

$240.0 BUY IT NOW 0hr 19mins

$220.0 BUY IT NOW 0hr 20mins

$2.6 BUY IT NOW 0hr 22mins

$2.6 BUY IT NOW 0hr 23mins

$2.6 BUY IT NOW 0hr 25mins
disclaimer
Tags: