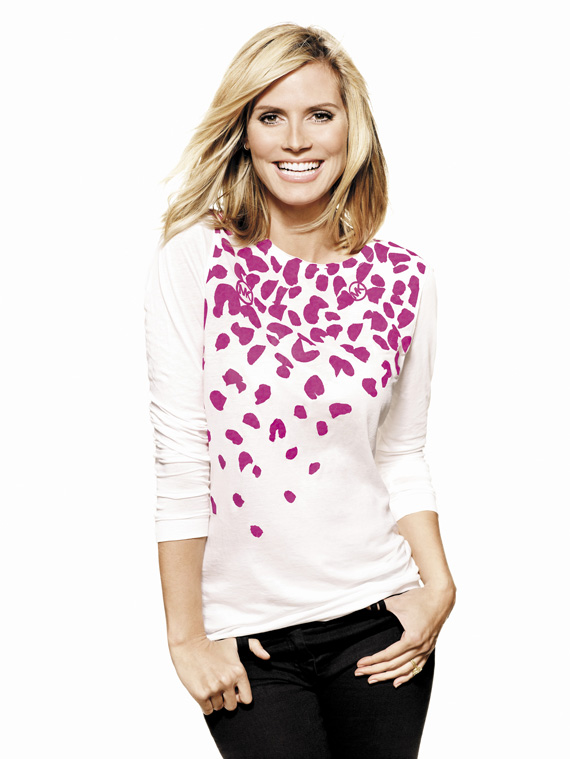 Heidi Klum wearing Saks Fifth Avenue Key To The Cure Tee ($40)
October is Breast Cancer Awareness Month, as a woman I support it fully especially this year since my aunt-in-law was diagnosed with breast cancer. Lots of brands created special products for sale and are giving a percentage of the proceeds to help with breast cancer research. If there's any products you think I should add, hit me up and I'll add them to this post! Thanks.
Saks Fifth Avenue launches the annual KEY TO THE CURE shopping event October 15-18 featuring limited edition T-shirt designed by Michael Kors, over $30 from your purchase of this cotton tee will benefit local women's cancer charities. Heidi Klum is the ambassador for the campaign. Saks Fifth Avenue will donate 2% of sales up to $250,000 over the shopping weekend (10/15/09-10/18/09) to local and national women's cancer charity partners. Shop on!
More info after the jump…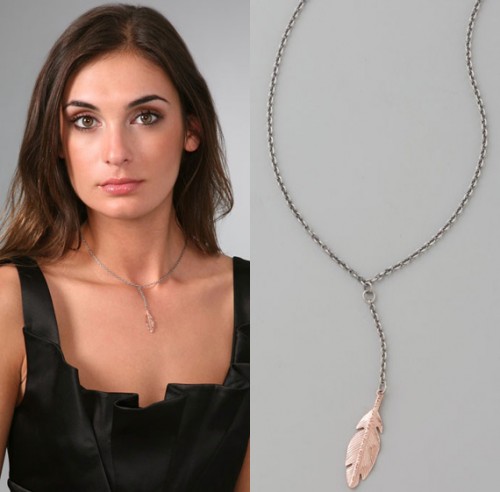 Elizabeth and James Breast Cancer Awareness Necklace ($58.00)
Designed by Robert Lee Morris for Elizabeth and James, and sold exclusively at Shopbop. Shopbop will donate $15,000 to the Breast Cancer Network of Strength®, an organization dedicated to ensuring no one faces breast cancer alone. Consider this necklace a symbol of our support. Rose-gold-plated feather pendant on a sterling silver chain. Lobster-claw clasp. 16″ long.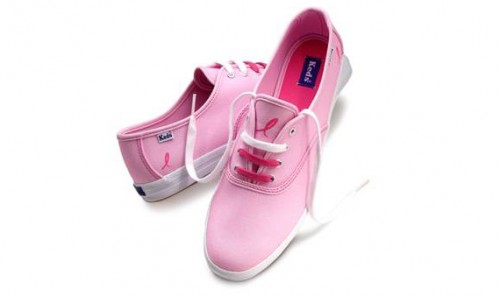 In support of Breast Cancer Awareness month, Keds has created a limited-edition Pink Ribbon Champion® ($40). 100% of the sales from this shoe will benefit the Breast Cancer Research Foundation®. Available exclusively at www.keds.com.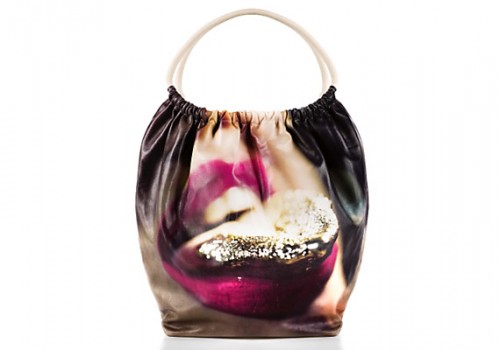 Intermix x Marilyn Minter/Bright Pink Tote ($48.00)
In conjunction with contemporary artist Marilyn Minter, and the breast and ovarian cancer non-profit Bright Pink, Intermix has created this exclusive tote bag printed with a still from Minter's art film, Green Pink Caviar. A percentage of proceeds from the bags will benefit Bright Pink, a national non-profit organization that focuses on empowering high risk women to take care of their breast and ovarian health.
The film still appears on the front side of this cotton canvas tote, the back is imprinted with "marilyn minter green pink caviar presented by intermix for bright pink" in pink lettering. It measures 16″ tall by 21″ wide with a 5″ flat bottom and top handles.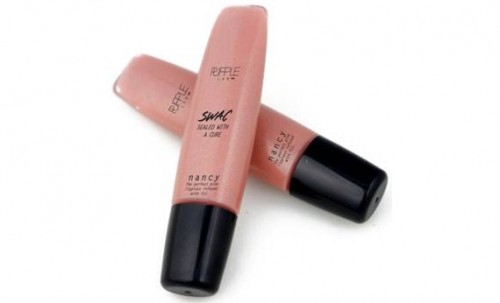 Purple Lab has partnered with the Triple Negative Breast Cancer Foundation to launch SWAC: Sealed With A Cure ($18.50), a feel good lip gloss equipped with ingredients that boost beauty, health and confidence. SWAC has been delivered to help increase awareness and funds for Triple Negative Breast Cancer research. 20% of the proceeds will go to the foundation.

Pave Diamond Breast Cancer Dog Tag ($950) and Breast Cancer Dog Tag ($450)
To support Breast Cancer Awareness, David Yurman released a pink rhodonite and sterling silver Breast Cancer Dog Tag. This newest addition to David Yurman's popular Women's Tag Collection is emblazoned with the DY logo, and is also available in a pave diamond-encrusted model. A portion of proceeds benefit The Breast Cancer Research Foundation.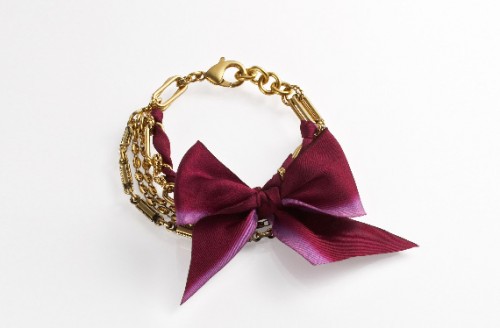 Breast Cancer Ribbon Bracelet by Lisa for Loft ($24.50)
A limited-edition, vintage-inspired bracelet, designed exclusively for LOFT by Lisa Salzer. Features a wine-colored ribbon and bow interwoven into a brushed-gold chain. Three, varied brushed-gold chains connected by links. Lobster claw clasp with adjustable closure. For every purchase made, $5 will go to The Breast Cancer Research Foundation.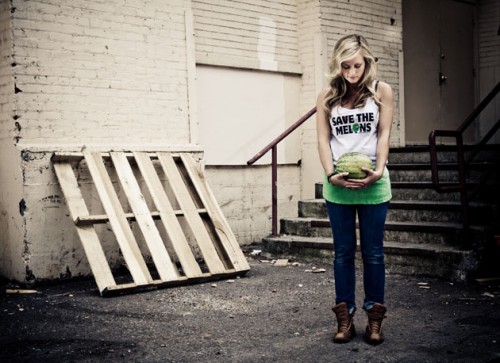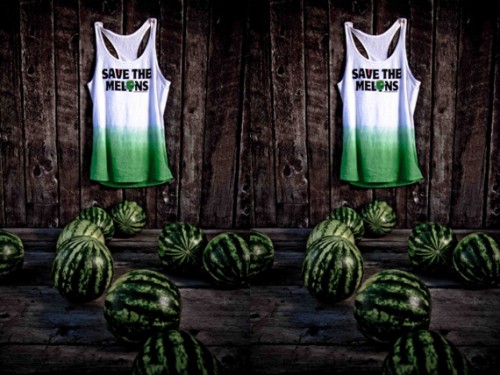 In recognition of Breast Cancer Awareness month, Burton Snowboards has teamed up with CCS and together they're asking you to help "Save the Melons!" They have created a fun tank that is available only at Burton Flagship Stores nationwide (Los Angeles, Chicago, Burlington, and NYC) and online through CCS.com. Only $19.99, a large portion of the proceeds will benefit Boarding for Breast Cancer, a non-profit, youth-focused education, awareness, and fundraising foundation. Their mission is to increase awareness about breast cancer, the importance of early detection and the value of an active lifestyle. Primarily serving the action sports community, they are huge advocates of snowboarding, surfing and skateboarding.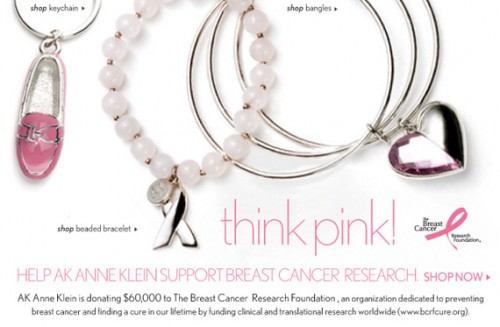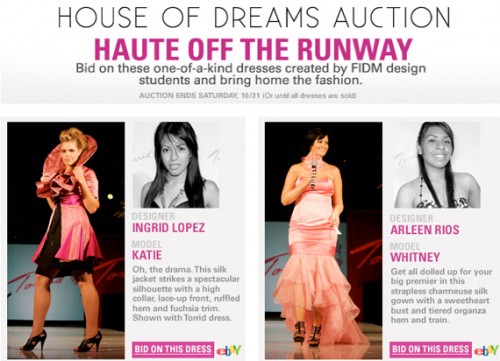 Gowns designed by FIDM students for the Torrid House of Dreams Fashion Event are being auctioned off on eBay
to benefit the National Breast Cancer Foundation. The gowns were modeled by the seven Torrid Model Search winners as well as the emcee for the event, Whitney Thompson. The gowns are available by auction on eBay.com
and all of the proceeds will go to the NBCF.

The Estée Lauder Companies' Breast Cancer Awareness Campaign's is launched an unprecedented "World Pink Mosaic" on October 1, 2009 – the centerpiece of its 2009 global online effort – to kick off Breast Cancer Awareness Month. In keeping with the theme of the Company's Breast Cancer Awareness Campaign: "World Pink. World Without Breast Cancer.™" the Company is planning to create the world's largest online photo mosaic in the shape of a Pink Ribbon, with participants from around the world sharing their support for breast health and the desire for a world without breast cancer. The online campaign will reach an estimated 200 million people worldwide. The World Pink Mosaic will be accessible through multiple locations on the web, including The Breast Cancer Research Foundation's official website, Brickfish.com, the social media platform provider of the campaign, and 15 Estée Lauder Companies brands' websites below.
The following Estée Lauder Companies Inc. brand websites will be hosting the 2009 World Pink Mosaic:
www.aveda.com
www.bobbibrowncosmetics.com
www.bumbleandbumble.com
www.clinique.com
www.darphin.com
www.dknyfragrances.com
www.donnakaranbeauty.com
www.esteelauder.com
www.jomalone.com
www.labseries.com
www.lamer.com
www.ojon.com
www.prescriptives.com
www.seanjohnfragrances.com
Categories: beauty celebrities jewelry/accessories shopping
Tags: