A couple of months ago I previewed this new Clinique Superbalanced Powder Makeup SPF 15 Mineral Rich Formula
at their fall 2009 editor preview and loved it. I rarely ever use powder or foundation since I don't like the "caked" up look, I like to be natural plus I have sensitive skin so I am careful with what I use on my skin. This new formula clings evenly to the skin, keeps the skin matte throughout the day  and seriously looks like you didn't put any powder on, its super light and goes smoothly on the skin. Another great thing is the design of the compact, it's a no-waste grinder, just "shave" what you need and don't need to worry about getting your makeup bag or handbag messy.
Clinique Superbalanced Powder Makeup SPF 15 Mineral Rich Formula is available in eight shades and is currently exclusively available at Nordstrom.com
for $34.50 and available September 2009 at Clinique counters nationwide and at www.clinique.com.
More info after the jump…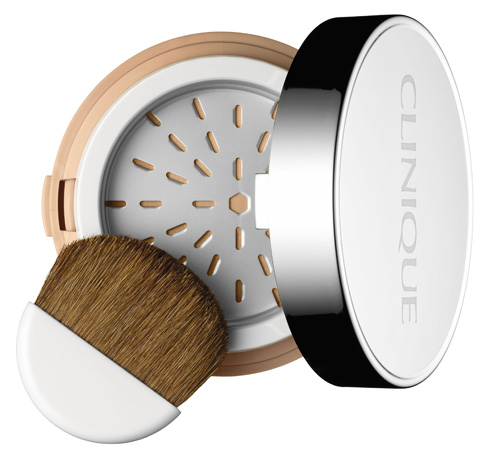 Additional info from the press release:
This Makeup Is Smart
Utilizing "smart technology" this skin balancing powder simultaneously maintains skin's moisture balance while controlling oil throughout the day, housed in a compact "shaver." An encapsulated complex of moisturizing ingredients including Phytosqualane and Murumuru Butter are dispensed upon shaving to add comfort to dry areas of the face as needed. Oily areas and shine breakthrough are controlled throughout the day thanks to the mineral-rich formula which is sweat and humidity-resistant.
Additionally, broad spectrum SPF 15 sun protection is provided with 3:1 UVB/UVA protection, meaning UVB protection is three times proportional to UVA protection. This 3:1 ratio, already mandated in Europe, ensures UVA protection is provided. And, this all physical sunscreen is suitable for even the most sensitive skin. Superbalanced Powder Makeup SPF 15 Mineral Rich Formula also delivers antioxidant protection – Vitamins C and E protect the skin from environmental aggressors and free radical damage.
This Is No Average Loose Powder
This mineral infused product starts off as a compressed powder which is then released as loose powder by a new-to-Clinique compact "shaver." Each calibrated turn of the shaver allows the perfect amount of fresh powder to be dispensed, providing a customizable application without any of the spills and lost product sometimes experienced with a traditional loose powder. And, a portable, anti-bacterial powder brush ensures the highest level of hygiene.
The Formula Does The Work For You
Superbalanced Powder Makeup SPF 15 Mineral Rich Formula doesn't require all the work and buffing other mineral powder brands do to achieve a smooth, flawless application. To develop this powder, Clinique uses a unique processing machine which refines the powder into uniform platelets that are evenly distributed on the surface of the skin. This colour true finely milled powder provides an effortlessly even application and optimum adherence requiring less touch-ups throughout the day with its long-wear, 8 hour formula. Just simply shave the powder in a clock-wise direction for the desired amount. Apply powder with the conveniently housed, anti-bacterial brush. It's that easy.
One Of The First To Use Minerals
Clinique has used minerals in a range of products since the brand's inception. In fact, Blended Face Powder which contains minerals was created the very same year Clinique launched. Superbalanced Powder Makeup SPF 15 Mineral Rich Formula is Clinique's newest mineral infused creation touting a mineral composition including Magnesium, Calcium, Potassium and Zinc incorporated into the formula to promote healthy skin. Allergy Tested. 100% Fragrance Free. Oil-Free. Ophthalmologist Tested.
Categories: beauty
Tags: