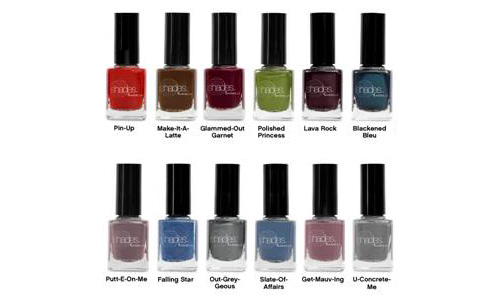 As you may know, I'm big on nails and love to paint my nails with the latest colors. All Lacquered Up, one of my favorite nail beauty blog, has teamed up with Shades by Barielle on a fall 2009 collection aptly named "All Lacquered Up". "We wanted to infuse the collection with what we saw at Fashion Week: a retro tomato red lip at Tibi; the luxe browns, mauves and steel blues of Reem Acra; the recurring palettes of chic grays from designers like Badgley Mischka." says Michelle Mismas, Founder of All Lacquered Up.
The new collection consists of 12 colors to satisfy your "nail" needs throughout the fall season. Colors include: Lava Rock (black and red pearl swirl), Blackened Bleu (black polish with sapphire sparkle), Falling Star (marine blue with gold glitter particles), Polished Princess (safari green with copper shimmer), Glammed Out Garnet (ruby-on-ruby sparkle), Pin Up (tomato red shimmer), Out-Grey-Geous (silver shimmer), U-Concrete-Me (steely gray), Slate of Affairs (worn denim), Putt-E-On-Me (classic clay), Make it a Latte (chocolate cream with golden highlights) and Get Mauve-ing (muted mauve).
Formulated to provide nails with safe, healthy and long-lasting glossy color coverage, Shades by Barielle is free of formaldehyde, toluene and dibutyl-phthalate. Women can also safely use Barielle products throughout pregnancy. Each bottle retail for $8.00 and is available at barielle.com.
Categories: beauty
Tags: