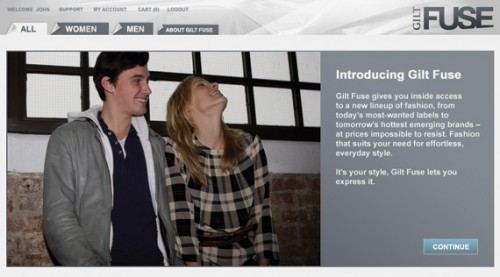 I'm quite sure by now you know I'm addicted to shopping on Gilt Groupe, I'm so happy to receive an email announcement that on Wednesday, August 12th at 12pm EST they will launch Gilt Fuse, which will offer the same irresistible steals with a deeper inventory and significantly lower prices ($75 – $150). Gilt Fuse will feature contemporary brands at lower price points than older sister Gilt Groupe. The first brands to debut on the site, at prices up to 70% off retail, include Plenty by Tracy Reese, Kova & T, Modern Amusement, CC Skye, TKO Orologi, RJ Graziano and BCBG.
"We recognized that there is a need in the flash sale category to offer fashionable, contemporary brands at significant discounts," said CEO Susan Lyne. "A large portion of our Gilt membership is looking for effortless, everyday fashions that don't stretch their budget. Gilt Fuse is a natural expansion for our brand and an answer to our evolving customer demands."
Access to Gilt Fuse will be invitation-only and existing members of Gilt Groupe are automatically granted access. I can't wait, be sure to mark your calendars!
Tags: