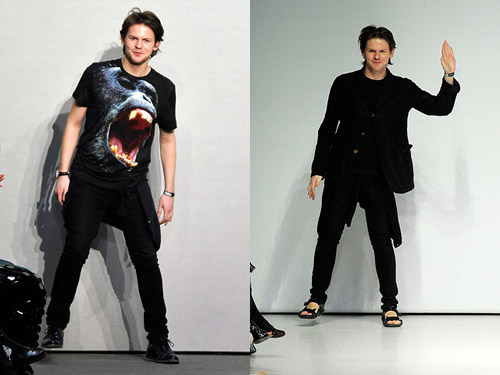 Photography: Style.com
[Sneak peek images deleted upon request of Topshop]
As you know I'm very excited about the upcoming Christopher Kane for Topshop Fall 2009 Collection, I've been anticipating to see what he designed since I've heard about it. I was hoping to get a glimpse of the collection last month when Topshop held their press preview for their Fall 2009 collections but it was no where to be found, apparently everyone had to stay hush hush about it. The anticipation is brewing and finally, spotted over at Lucky Right Now (Lucky Mag's blog) a sneak peek of the collection!
The soon to be released Christopher Kane for Topshop collection is the biggest collection for Topshop yet, with 39 pieces (including shoes and bags) is set to land in-store this September priced from around $80-$300! "This is more than a capsule collection. It's proper: with bags, shoes, knitwear and dresses. It's nothing like any other work I've done in the past. Everything is a bit "wow". But If I tell you any more, I'll be giving the theme away," Christopher told Grazia's Melanie Rickey.
OMG, OMG, OMG looking good, loving that it's all black too. I can't wait! Gotta start saving up now! Are you excited?
Update 06.25.2009: Images were requested to be taken down by Topshop, stay tuned for the preview in September.
UPDATE 08.20.2009: Here's the first look at the Christoper Kane for Topshop collection with Jourdan Dunn rockin' some of the pieces in the September issue of VOGUE. Click here to view!
UPDATE 08.21.2009: Finally the full collection look book is posted, HOT- I need everything in the collection. Peep here!
$25.0 BUY IT NOW 8hr 43mins

$18.75 BUY IT NOW 14hr 9mins

$199.98 BUY IT NOW 0hr 47mins

$179.98 BUY IT NOW 0hr 47mins

$179.98 BUY IT NOW 0hr 47mins

$39.99 0 bids 1hr 11mins

$20.0 BUY IT NOW 3hr 55mins

$50.0 BUY IT NOW 6hr 17mins
disclaimer
Categories: fashion handbags topshop
Tags: