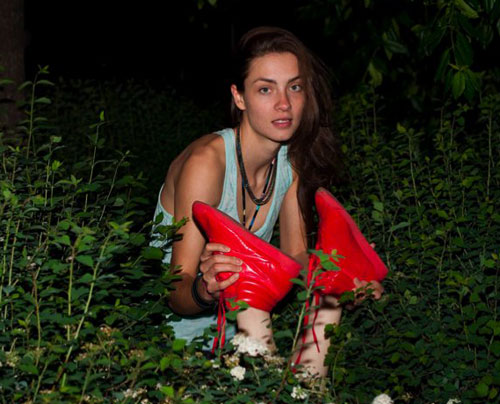 New York City
Check out some of the original works inspired by the Reebok Freestyle by a group of stylists and photographers from New York, Hong Kong, Paris and Munich. It's always interesting to see an exhibition revolved around sneakers. The Reebok Freestyle "Bomb Pop" Collection is available for $75.99 at ALIFE, Michael K, Shoe Mania (NY), Pavonia (NJ), Atilon, A-1 and Norac II (Brooklyn).
For New York, stylist and fashion editor Annette Lamothe-Ramos and photographer Matthew Frost teamed up on the shoot. Annette chose Manhattan's East Village as the inspiration for her celebration of the Reebok Freestyle shoe. As a native New Yorker, Annette spent much of her youth hanging out in the streets, stoops, parks and rooftops of this iconic neighborhood. Because she associates this shoe with being young, free-spirited and living without boundaries, she brought the shoe and her friends to her favorite places in the Village – her rooftop, her corner deli, her park, her local dive – to convey a celebration of youth, love and inspiration.
More pics and info after the jump…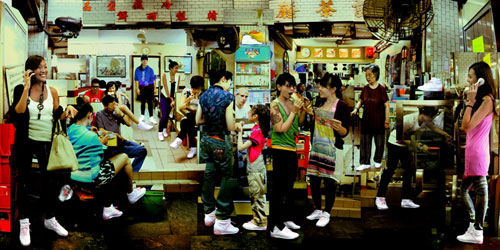 For Hong Kong, Davena Mok, Director of A-Vibe, styled and Douglas Young photographed the shoot. Hong Kong's "it" girl Davena Mok and "it" artist Douglas Young have combined stylish vision with retro sentiment and a cinematic aesthetic to present their "Charchaanteng Chronicled" photograph. Paralleling the pioneering legacy of Reebok's legendary Freestyle shoe, the image represents a celebration of an unforgettable chapter in cultural history. Inspired by a mutual love of their home city — where modern, hi-tech, urban landscapes are juxtaposed against local, traditional, social settings — Douglas and Davena chose the Hing Kee charchaanteng (a local-style "tea restaurant") in the deteriorating Ngau Tau Kok Lower Estate as their vibrant-yet-very-humble setting. Located in Hong Kong's Kowloon peninsula, the 40-year-old industrial estate is set for demolishment in June 2009 under the government's "Comprehensive Redevelopment Programme." It represents an irreplaceable legacy in the city's urban (over-)planning vision for modernization. Douglas and Davena hope to pay tribute to the ever-burgeoning issue of cultural conservancy in a city of constant change with their four-part "Hail Heritage" exhibition, led by the "Charchaanteng Chronicled" photograph, created exclusively for the Reebok Freestyle Stylist Series.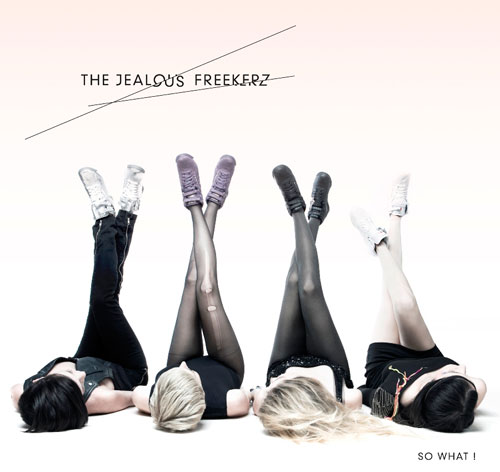 For Paris, stylist Nadège Winter and photographer Nathalie Canguilhem teamed up on the shoot. The Jealous Freekerz is the pretext to what Nadège named the mise-en-style of the Reebok Freestyle Fall/Winter 2009 collection—rock, pop, fun and funk. Music, the rock myth and the charisma of a band are always strong symbols to express energy, mobility, intensity, life, creativity. Away from the Fitness, Street or Fluokids cliché, the Jealous Freekerz express a modern style—fabulously rock, pop, folk, and chic! The photograph mimics a record jacket, but is it fact or fiction? Spoof or buzz? Does this band really exist? The story is to be continued. . .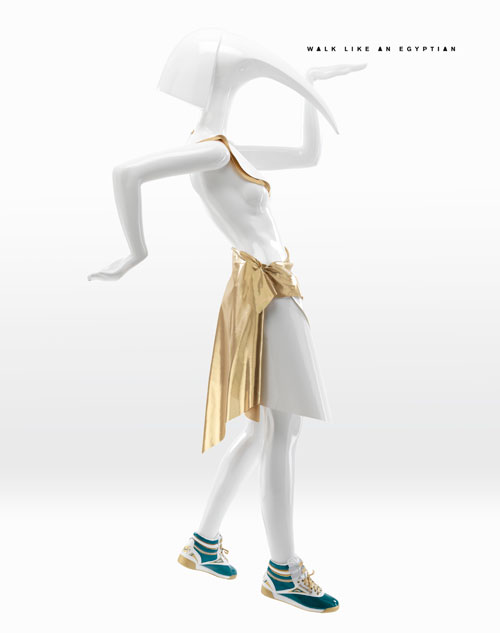 For Munich, stylist Maral Salmassi and photographer Gunnar Hämmerle teamed up on the shoot. Maral's inspiration for this project is looking back at the wild and glamourous years in the 80's! No matter if fashion or music, at that time there was a very special movement going on and the message was simply fun! This humorous and colorful mash up lifestyle was able to translate multicultural symbols into an iconic and memorable fashion style which is still a big inspiration for Maral's outfits and music!
Categories: art/design kicks
Tags: