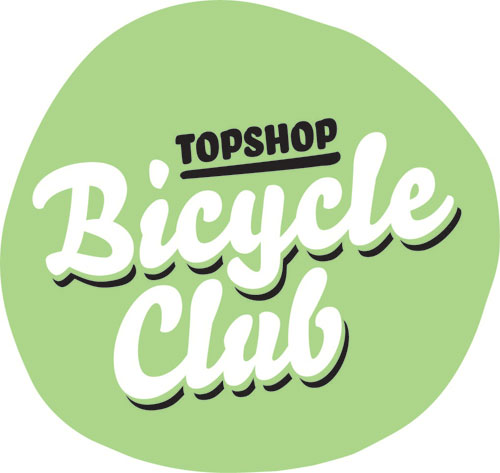 Great news for bikers, to celebrate the arrival of summer starting this Saturday, June 20th thru Sunday, June 27th, outside the Topshop Soho store there will be a complimentary bike valet if you would like to ride your bike to the store, also New Yorkers can hire one of 30 Topshop bicycles for free to wheel around the city in style. The rental must be returned to the store by 9pm, but you can use it all day if you so desire! Everyone who borrows a bike will receive a fashion map which will take them round a choice of three separate routes via Topshop's favorite New York haunts. The route will encompass sweet treats at Tea & Sympathy, a visit to DIYclothing emporium Home Ec from the owners of boutique clothing shop 'Flirt', and a trip to Pixie Market to browse the up-and-coming designer offerings. The map will also include hidden gems such as the fabulous nail bar Hello Beautiful in Williamsburg, and luxury Italian apothecary Santa Maria Novella in Soho.
Also, each day "tokens" will be hidden all over the Topshop Soho store, if you find one of these tokens take them to the register to receive your free ticket to the Topshop Bicycle Club Movie Night at the Yard on Friday, June 26th for as screening of he classic film 'Blow Up'. After the film there will be DJs, including Mia Moretti and Erin Lucas, dancing and drinks – plus a bike valet so winners can ride their bikes to the event.
This is dope! Since I don't own a bike, I think I may go rent one!
More info after the jump…

In true Topshop style, people cycling around the city will be invited to take street style snaps of their cycling looks and enter them into a competition hosted by fashion authority site Chictopia.com. The competition will run over a month, and each week there will be five winners – four chosen by Chictopia.com users and one chosen by Topshop. Each winner will receive a set of wheels!
On Saturday, June 20th and Sunday, June 21st, from 12pm – 6pm, in-store customers will have the opportunity to have their picture taken by legendary nightlife photographer Nicky Digital in front of a street style backdrop. There will be a special Style Advisor team on hand to advise on how to look as good as possible on your bike and all the photographs will be uploaded onto Flickr and Topshop's Facebook page, allowing people to tag themselves and comment on their favorite images.
Categories: beauty jewelry/accessories shopping topshop
Tags: