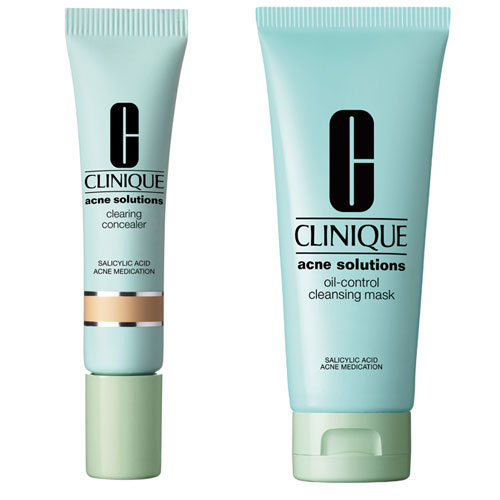 During the summer I'm more easily prone to getting pimples because of the heat and sweat, and for the ladies I'm sure some of you can relate that when a certain time of the month is here the pimples start popping up. Clinique is introducing a new Acne Solutions Clearing Concealer ($13.50) and Acne Solutions Oil-Control Cleansing Mask ($19.50) to help with the problem.
Per the press release: The Acne Solutions Clearing Concealer glides on smoothly to instantly put blemishes and redness undercover with a long-lasting, stay put application that blends easily as it treats blemishes and helps prevent future breakouts. Skin is left comfortable and imperceptibly camouflaged. The concealer is available in three shades plus a specially created green tint to instantly quell surface redness. The Acne Solutions Oil-Control Cleansing Mask is a non-drying, non-stripping intensive treatment that smooths onto skin comfortably in just five minutes. This day-based mask helps minimize the severity, size and reoccurrence of acne breakouts, reduces the size and appearance of existing blemishes, and unclogs and shrinks the look of pores all while soothing irritation and redness.
The products seems pretty good, I might give it a try. The Acne Solutions products will be available starting July at Clinque counters and at www.clinique.com.
Categories: beauty
Tags: