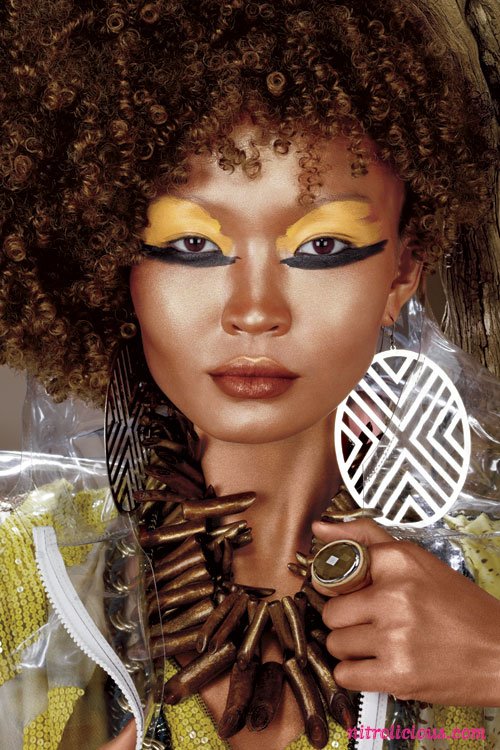 MAC's latest collection Style Warrior will be released for a limited time starting tomorrow, May 20th. The collection is "made to celebrate the cross-cultural sophistication of the modern Amazon Princess, African Queen, Crouching Tigress…"
Per the press release: Introducing a dramatically different and deliberately diverse colour story, an eclectic and expressive way to exalt and admire the strength and solidarity of beauty with no barriers. A selection of all-over summer bronzing shades for Lips, Cheeks, Eyes, Nails, featuring the innovation of Impassioned, Bronzescape and Scatterrays Solar Bits – sunbursts to unleash the animal in every woman. All exotically packaged in stylized zebra and leopard prints to keep it wild and uninhibited – like the Style Warriors we blazing the fashion war path in great cities.
Loving the packaging of this collection, the zebra and leopard prints are too cute. Love the lipglass and nail lacquer.
More pics after the jump…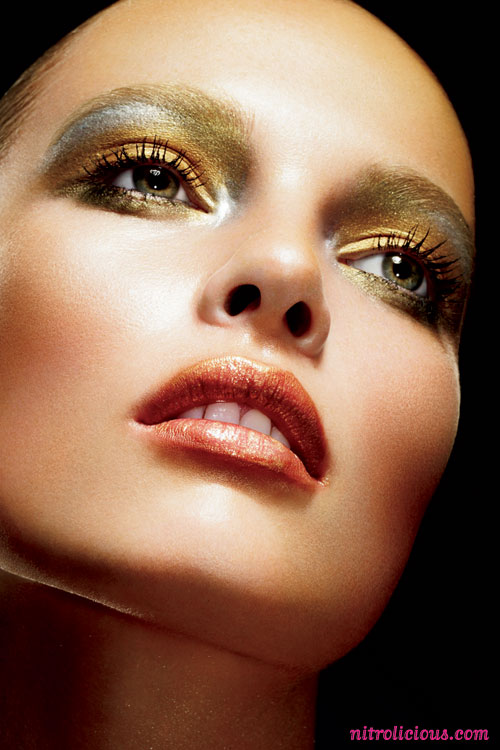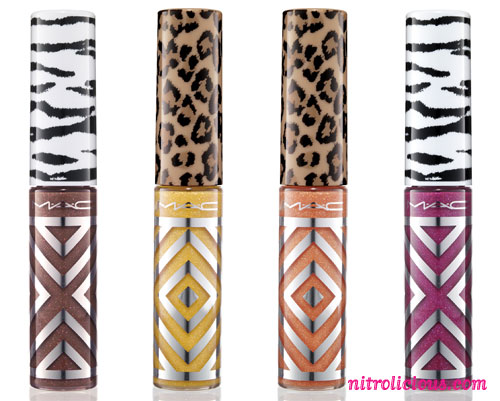 LIPGLASS: Suggested Retail Price $14.00 U.S./$16.50 CDN
Style Warrior – Blackened bronze brown with pearl
Liberated – Sheer yellow gold with pearl
Gold Rebel – Sheer copper bronze with pearl
Fierce & Fabulous – Bright magenta purple with pearl

LIPSTICK: Suggested Retail Price $14.00 U.S./$16.50 CDN
Sunsational – Sheer frosted beige gold
Brave New Bronze – Creamy mid-tone pink nude
Purple Rite – Mid-tone frosty orchid
Tribalist – Creamy blackened berry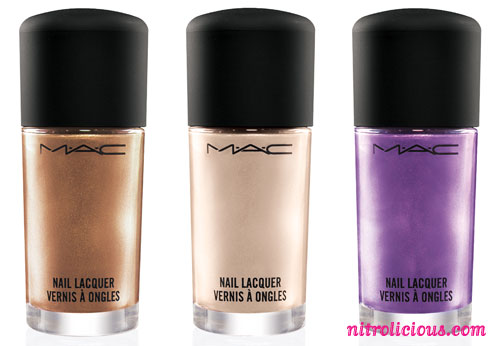 NAIL LACQUER: Suggested Retail Price $11.00 U.S./$13.00 CDN
Mercenary – Frosted blackened bronze
Peaceable – Pearly pale golden beige
Violet Fire – Bright creamy magenta purple


SOLAR BITS: Suggested Retail Price $19.50 U.S./$23.50 CDN
Bronzescape – Clean yellow brown with gold pearl
Scatterrays – Soft metallic peach with gold pearl
Impassioned – Frosty cool taupe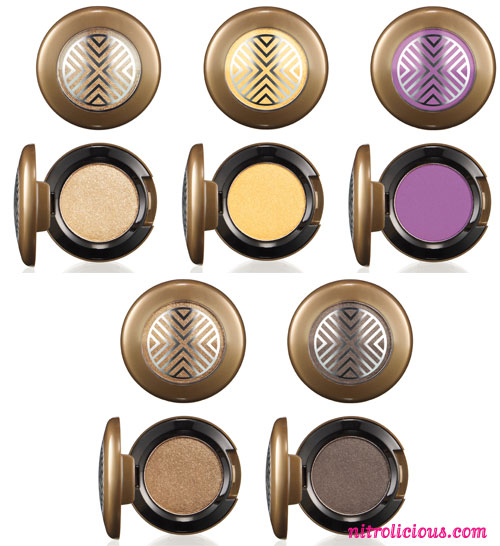 EYE SHADOW: Suggested Retail Price $14.50 U.S./$17.00 CDN
Soft Force – Frosty pale white gold
Bright Future – Frosty bright yellow gold
Vibrant Grape – Bright magenta purple
Tempting – Sinfully rich coco
Night Manoeuvres – Deep charcoal brown with pearl

BRONZING POWDER: Suggested Retail Price $21.00 U.S./$25.00 CDN
Refined Golden – Finely spun golden with soft pearl finish
Solar Riche – Mid-tone deep orange brown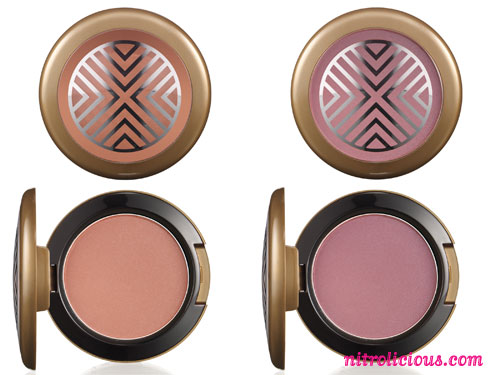 BEAUTY POWDER BLUSH: Suggested Retail Price $18.00 U.S./$22.00 CDN
Eversun – Neutral peach bronze with gold pearl
On A Mission – Pearly mid-tone plum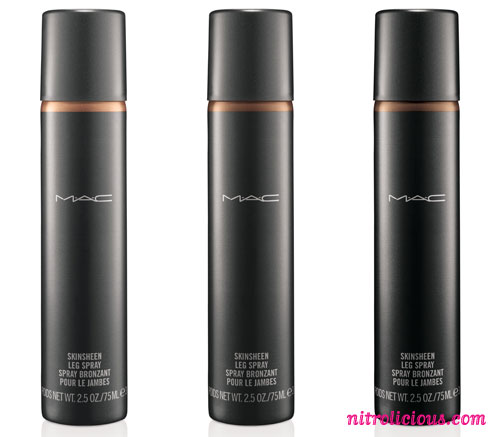 SKINSHEEN: Suggested Retail Price $22.50 U.S./$27.50 CDN
Medium Dark – Sheer soft bronze with golden tan pearl
Dark – Golden bronze
Deep Dark – Deep warm bronze with rich golden pearl

LUSTRE DROPS: Suggested Retail Price $18.50 U.S./$22.50 CDN
Pink Rebel – Blue pink with gold pearl
Bronze Hero – Hot bronze with fine gold pearl
Sun Rush – Peachy bronze with gold pearl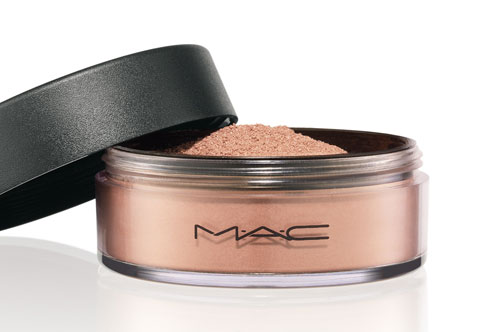 IRIDESCENT POWDER/LOOSE: Suggested Retail Price $21.00 U.S./$25.00 CDN
Golden Bronze – Golden brown with golden bronze shimmer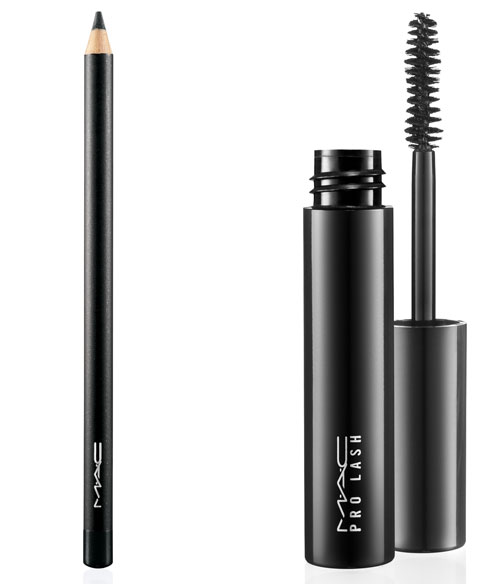 EYE KOHL: Suggested Retail Price $14.50 U.S./$17.00 CDN
PRO LASH MASCARA: Suggested Retail Price $12.00 U.S./$14.00 CDN
Coal Black – Honest-to-goodness black

BRUSH
Categories: beauty
Tags: