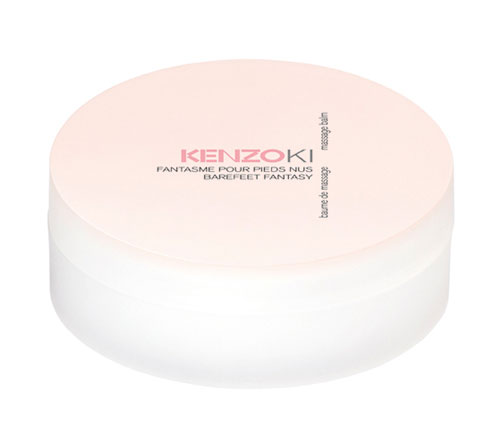 I can never get enough pampering for my feet especially in the summer, our feet holds us up throughout the day and it tends to get dry, rough and tired at the end of the night. I don't want to be walking out with dry and crusty feet especially in sandals so I'm always moisturizing. KENZO just released a new product called KENZOKI Barefeet Fantasy, the product is enriched with cupuacubutter, this luxurious massage balm nourishes and prevents dry, rough heels, while shea butter repairs and soothes tired feet. Cupuacubutter is an herbal butter in the cacao family found in the Amazon rain forest. This creamy butter boosts the skin's natural moisture and elasticity. It is very beneficial for dry, damaged skin. KENZOKI Barefeet Fantasy is available exclusively at www.kenzousa.com for $30.00 in 80ml (2.7oz).
I have yet to try this product but am interested because it has rice plant water, sounds interesting. Has anyone tried this?
Key ingredients after the jump…

Rice plant water –cultivated specially for Kenzo in the Chinese province of Zhejiang. The rice plants from which the plant water is extracted grow from mid-July to mid-August in the fertile and marshy soil of rice paddies. Rice plant water has its own specific virtues. A research program conducted by the Gattefossé laboratories has shown that rice plant water reinforces the anti-radical activity of anti-oxidizing agents.
Cupuacubutter–found throughout the Amazon forest, this herbal butter belongs to the cacao family. It supplies the skin with fatty acids essential to the maintenance of the skin's lipidic layer.
Shea butter–extracted from the fruit of the Central African tree called butyrospermum parkii, shea butter is known for its repairing and protecting properties, as well as its calming and soothing action.
Categories: beauty
Tags: