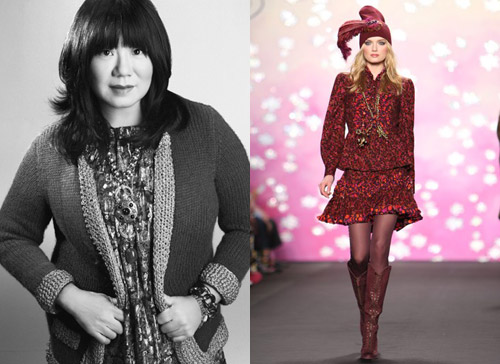 Anna Sui + Fall 2009 RTW
Good news, WWD reports that Anna Sui is following the footsteps of Alexander McQueen to release a capsule collection for Target's Designer Collaborations. For the collection, Anna Sui draws inspirations from the four main female characters on the CW's hit show Gossip Girl, OMG yes can't wait to see! The collection is slated to hit 250 select Target stores and Target.com from September 13 through October 17. I anticipate to see how the collection turns out, I'm a fan of Anna Sui so hope this will be good! Are you guys excited?
"I have always been a fan of designer partnerships with mass retailers," Sui told WWD exclusively. "I think it is a great way to bring fashion to everyone. I love Go International and was intrigued with Target's new take on designer partnerships. It's a fresh approach. I was able to select a muse or source of creative inspiration to focus the collection around. It is an exciting challenge to try and interpret my aesthetic into a mass-produced product with a specific inspirational source as the focus."
Update: The lookbook is up, check here.
Tags: