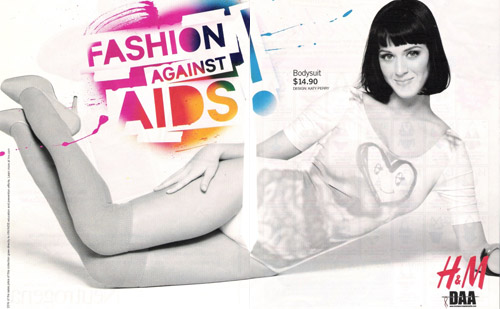 H&M and Designers Against AIDS (DAA) are joining forces once again in the battle against AIDS and are launching a Fashion Against AIDS collection featuring T-shirts and other garments designed by artists and celebrities including Katy Perry, Dita von Teese, N.E.R.D. and many more. The aim is to spread awareness about HIV/AIDS, which affects many young people all over the world. Check out the first look at Katy Perry's design, she designed a bodysuit featuring a smiley face inside a heart which retails for $14.90. The collection will be available in H&M's Divided departments this month, stay tuned more campaign pics and the official release date. Thanks to reader lucy92 for the scan via Seventeen Magazine.
> Click here to check out the the full campaign and designs
Update: Added a few more pics below.
Bigger pic after the jump…
—-

Print by Katy Perry

Print by Katy Perry
Categories: celebrities fashion h&m
Tags: