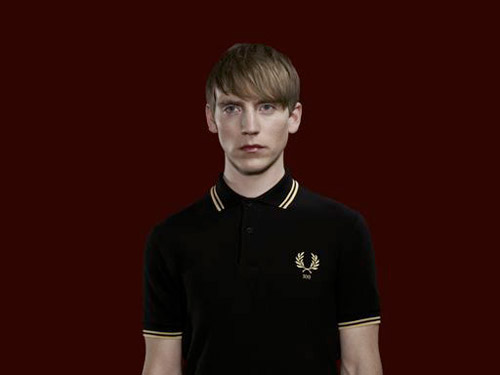 2009 marks the centenary of the birth of Frederick John Perry and in celebration of Fred's 100th, the brand has developed a collection of classic Fred Perry shirts that feature a unique design detail; an enlarged 16 leaf laurel with the centenary embroidery placed underneath. The palette references classic Fred Perry colorways – white with leaf tipping, black with champagne tipping, 1964 sky with navy tipping and red with white tipping. The Fred Perry Centenary Authentic Polo is a limited edition garment. Throughout the brand's history the product has been synonymous with great style and manages to sit comfortably between the rebellious world's of fashion and music, and the competitive sports arena. The brand appeals to those with their own sense of style and a self-confidence that Fred Perry himself possessed.
The polo arrives in-store on May 15th and will be available at the Fred Perry Soho store in New York, Neiman Marcus in Dallas, Citizen Clothing in San Francisco and other selected retailers around the country.  The polo will retail for $95.
Even though these are men's polos, I'd totally rock them. Polos are pretty much unisex, I always wear men's polos in smaller sizes, nothing wrong with that.
More pics after the jump…
Categories: fashion
Tags: