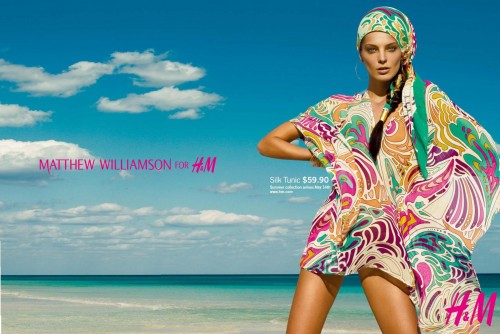 Previously we posted the first two images of the Matthew Williamson for H&M Summer '09 Collection ad campaign featuring Daria Werbowy last week, here's another one. The colorful silk tunic and beautiful blue sky is making me want to go on vacation like right now! Thanks to reader lucy92 for the image.
From May 14, the perfect wardrobe for Summer will be available in around 1600 H&M stores worldwide. Williamson has also designed a full menswear collection for H&M and this will mark his debut into menswear. Stay tuned for the Summer collection preview forthcoming…
In the meantime the Spring 2009 Collection [Part 1] will be released on April 23rd in the following US stores (click link). Mark your calendars!
Categories: celebrities fashion h&m
Tags: