This one is for all the Twilight fans especially the Bella fans, you can now pre-order the blue BB Dakota Twilight Jacket that Bella wore in Twilight. The Twilight Jacket retail for $64 and is expected to ship on August 15 according to FredFlare.com. Would you rock it?
The cargo jacket by Jack BB Dakota wasn't actually supposed to appear in Twilight. "I was planning to use the brown hoodie for that sequence, but the director of photography hated the fact that her hair and the jacket were both brown and felt she got lost in it," says Chuck, who then made a last-minute run to outlet store Nordstrom Rack to hunt for a replacement. "I literally brought that blue one on set just before they rolled cameras. Then Catherine said, 'Wendy saved the day!' That made me a hero." Good news for fans: Because of its massive popularity, the newly dubbed "Twilight" jacket will be reissued. via EW
UPDATE 01.22.2010: The BB Dakota 'Twilight' Jacket is also available at Karmaloop.com for $60.
More pics after the jump…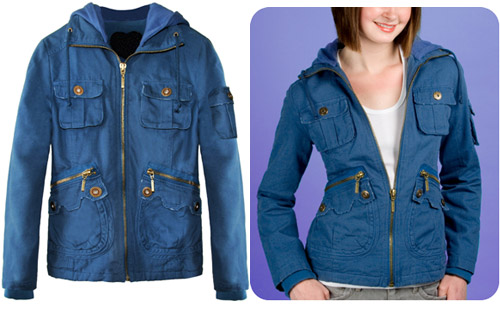 Categories: celebrities fashion shopping
Tags: