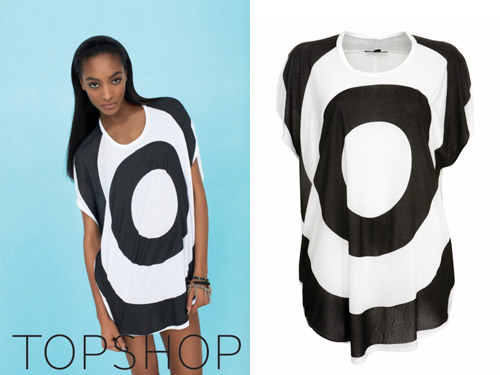 Topshop is continuing its support of charity initiative Fashion Targets Breast Cancer in 2009 with the launch of a limited edition T-shirt, available in-store and online from April 6th. This season the T-shirt will be modeled by the fabulous Jourdan Dunn in Topshop's Spring/Summer 09 advertising campaign. The T-shirt will retail at US$44, with 30% of the proceeds going to Breakthrough Breast Cancer.
Topshop has been working with Fashion Targets Breast Cancer since 2005, producing an exclusive shopper bag each year for the charity. This year they've created a unique T-shirt, cut into the target shape now synonymous with the charity. In bold monochrome, the new style drapes beautifully around the body for maximum impact.
Fashion Targets Breast Cancer is the flagship fashion campaign of Breakthrough Breast Cancer, the UK's leading charity committed to fighting breast cancer through research, campaigning and education. Since the campaign launched in the UK in 1996 it has raised over £9 million for Breakthrough Breast Cancer's vital work. The initiative was inspired by Ralph Lauren in the USA in 1994 as the fashion industry's response to the devastating impact of breast cancer.
"I'm really happy to support Fashion Targets Breast Cancer – they do brilliant work and help save lots of women's lives". ~ Jourdan Dunn
Check out the video for the T-shirt after the jump…
Categories: celebrities fashion shopping topshop
Tags: