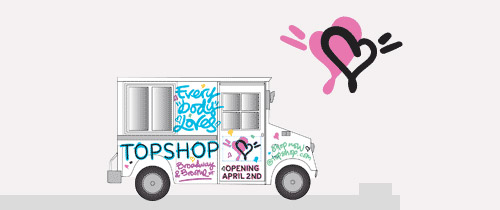 Just ONE more day (April 2, 2009 @ 11am) until Topshop Soho opens, let the countdown begin! As promised here's today's scheduled times and locations where the Topshop Heartschallenger Vans will stop to give out free goody-bags! From what I was told by some of you guys, sometimes they make pit stops at different locations. Hopefully they'll follow the schedule that they've provide to me. Make sure you get to the location and grab yourself one and may be one for me too (haha), you're welcome! Report back and let me know how it goes.
Time: 12pm
Van/BA #1: University Café (Waverly & University Place)
*Please note times/locations may change at Topshop Heartschallenger Vans' discretion. Good Luck!
Full schedule after the jump…
Wednesday, April 1st
Time: 2pm
Van/BA# 1: stop: Crosby and Prince
Time: 4pm
Van/BA# 1: stop: Broadway & Broome
Van 1: stop: NYU dorms (Bleecker btw LaGuardia Pl & Mercer St) (alternate stop)
Time: 9pm
Van/BA #2: at Ludlow & Stanton
Time: 11pm
Van/BA #2: at second stop: Late of the Pier and The Whip @ Bowery Ballroom
Time: 12:00am
Van/BA #2: stop: Ella Lounge for Ella party (Ave A between 1st and 2nd)
Tags: