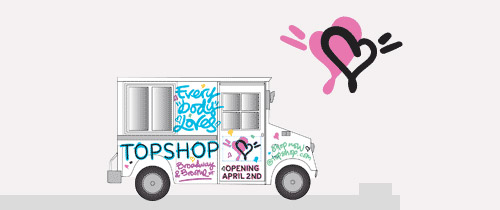 Just THREE more days (April 2, 2009 @ 11am) until Topshop Soho opens, I'm jumping in joy just thinking about it! So I'm sure some of you know that to celebrate the opening of their first New York store Topshop sent out Heartschallenger vans driving around New York giving out free goody-bags! They've got a GPS tracker on their site but I've got the exact locations and times! Make sure you get to the location and grab yourself one and may be one for me too (haha), you're welcome! Report back and let me know how it goes.
Time: 12:20pm
Van/BA #1: at Columbia (535 W 116th St, btw Broadway & Amsterdam Ave)
Van/BA #2: at Parsons/New School (5th ave &13th st)
Full schedule after the jump…
Monday, March 30th
Time: 2:30pm
Van/ BA #1: stop: Nightingale Bamford School (92nd btw 5th & Madison)
Van/BA #2: stop: Pratt (144 W 14th st , btw 6th & 7th)
Time: 3:45/4pm
Van/ BA #1: stop: Spence School (22 East 91st Street, 91st btw 5th and Madison)
Van/BA #2 : stop: FIT (27th & 7th Ave)
Be sure to check back tomorrow morning for exact locations and times, I'll give you guys the scoop! xoxo, retrogurl.
Tags: