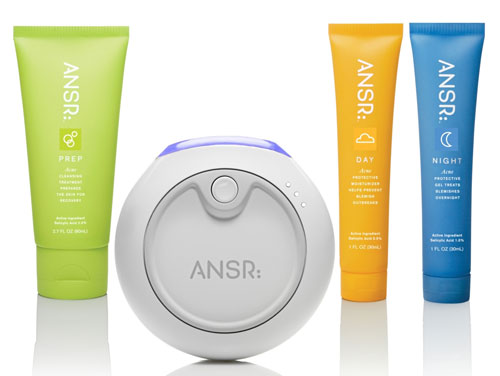 I'm sure a lot of ladies agree with me that when its the time of the month we all get a few breakouts here and there, unless of course you're a teenager, you can't get away with it. With acne affecting as much as 80% of teenagers and 35% of adults, it's no wonder there are thousands of acne products in the cluttered skin care marketplace. Also, with the recession now we can't be booking facials that often, it will def cause some damage to the wallet. I have to admit I am afraid to get a facial, when they try to dig out the pimples and black/white heads it's quite painful and my face turns really red (takes a few hours to go back to normal)! Plus I am quite lazy to sit at the beauty salon for a couple of hours to get a facial, I'm just not the typical girlie girl.
I just discovered ANSR, a new at-home LED device for acne and skin rejuvenation, it was created by Portland-based Oregon Aesthetic Technologies (OAT). The device addresses blemishes and acne with it's proven effective blue light and the red light calms the skin, reduces inflammation and rejuvenates the skin- similar to the treatment you get at a doctor's office. The kit also offers compatible topicals ranging from an exfoliating PREP wash to botanical and naturally active ingredient based DAY and NIGHT spot treatments. The starter kit is available online for $185, it includes the ANSR BEAM and Topical Set.
For me this kit will be in use when the the breakouts start before and during the time of the month, other times my skin is pretty clear. I'll be reporting back on what I think about the kit after a few tries, but if any of you guys tried this let me know your thoughts!
Categories: beauty
Tags: