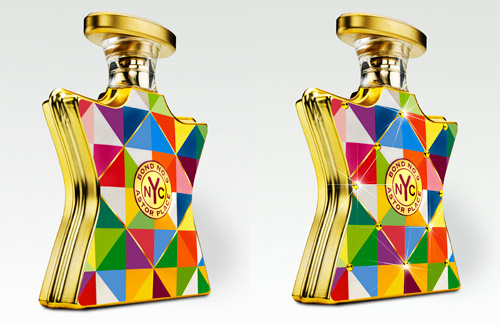 This April, Bond No. 9 presents Astor Place, a fragrance inspired by New York's most vibrant arts-and-style intersection. The surface design of the Astor Place flacon echoes the angles and cubes of the Rosenthal sculpture, but renders them in a range of triangles displaying the richest array of colors ever seen in the Bond No. 9 bottle repertory. These triangles also recall Astor Place's lampposts, curbs, and even cracks in the pavement which are lovingly decorated with mosaic tile shards by local denizens. All this is placed against a golden background, paying homage to the Astor fortune and philanthropy.
The scent is an example of when downtown meets uptown. It's a seductive fresh floral – a freesia-poppy-violet leaf composition that simmers down into the smooth, steady notes of teakwood and musk. And that's not all, for Mother's Day they're offering Astor Place in a limited-edition Swarovski bottle- delicately decorated with topaz crystals.
Astor Place, the eau de parfum, is available in two sizes: 100ml ($220) and 50 ml ($145), and a Astor Place Swarovski Limited-Edition for Mother's Day 100ml ($300) at Bond No. 9's four New York City boutiques, www.bondno9.com and at Saks Fifth Avenue nationwide.
Bigger pics after the jump…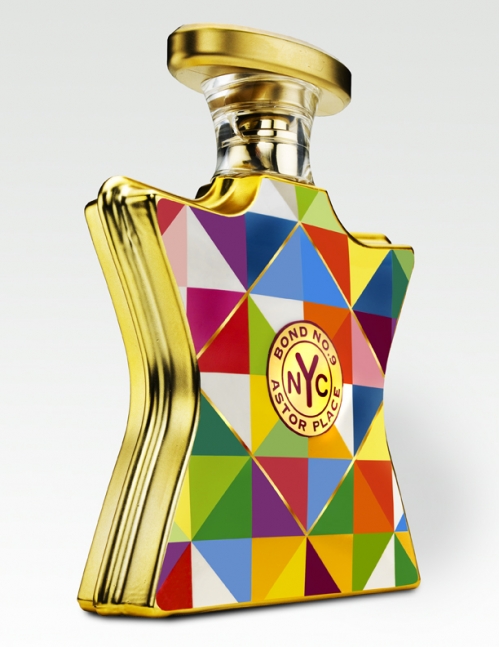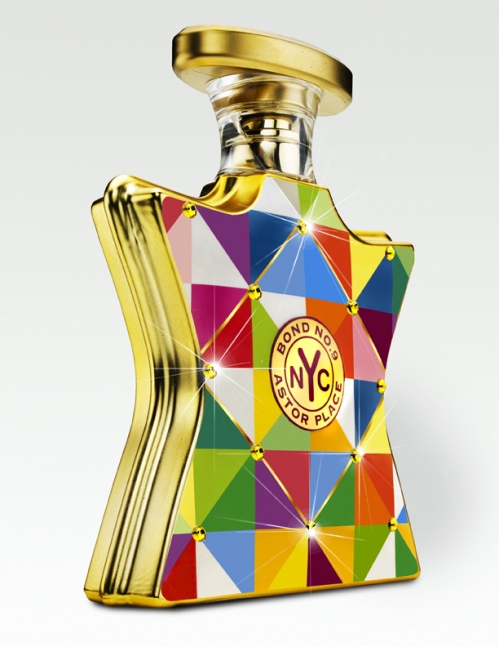 Top Notes:
Sweet,come-hither Violet Leaf
Mandarin Zest—Violet Leaf's polar opposite, ready for d étente
Middle Notes:
Gentle Freesia when it ventures below 14th Street in stilettos
Red poppy buds that are growing up fast
Seductive Orris (iris root), heading to Joe's Pub for the midnight hour
Bottom Notes:
Smooth and mellow teakwood that's just been lusciously oiled
Musk that's a little bit drowsy, but still on the prowl.
Amber, pondering whether to commit to the teakwood or the musk
Categories: beauty
Tags: