Who: Hermes
Why: Womens & Mens Clothing Sample & stock sale. Twice a year, Hermes has a sample sale for mens and womens ready to wear and accessories. Be patient. There will be long lines for this event.
When: March 25-28, W-Sat 10-6, Th til 8
Where: The Metropolitan Pavilion, 123 West 18 Street (6-7 Avenues), 4 Floor Gallery, 212.759.7585
Big thanks to reader Kassan for sending in the list of sample sales!
More info after the jump…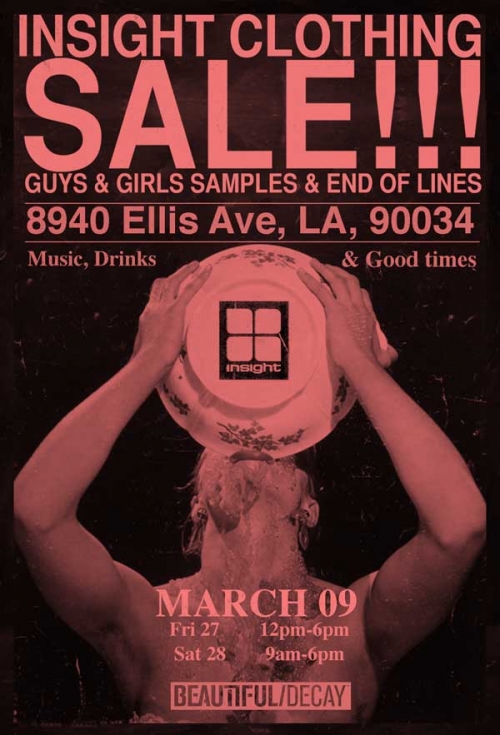 What: Insight Warehouse Sale
Why: Half off fall '08 through summer '09 samples and overstock for girls and guys, too.
When: Fri., noon-6 p.m.; Sat., 9 a.m.-6 p.m.
Where: 8940 Ellis Ave., b/t S. Robertson & National Blvds., Culver City (877-398-5140).
Who: Abaeté
Why: Sundresses, '40s-inspired swimwear, sweaters, and jackets up to 80 percent off.
When: Mar. 19-21. Thurs. & Fri., 11 a.m.-7 p.m.; Sat., 11 a.m.-6 p.m.
Where: 560 Broadway, at Prince St., ste. 509 (212-334-4755)
Who: Me&Ro
Why: Up to 75 percent off silver and 10- and 18-karat gold jewels.
When: Mar. 19-21. Thurs., noon-7 p.m.; Fri., 10 a.m.-7 p.m.; Sat., 10 a.m.-4 p.m.
Where: 13 Crosby St., b/t Howard & Grand Sts., 2nd flr. (646-747-5900).
Who: Saja
Why: Gowns, cocktail dresses, knits and sweaters at more than 75 percent off.
When: Mar. 19 & 20. Thurs. & Fri., 10 a.m.-8 p.m.
Where: 250 W. 39th St., b/t Seventh & Eighth Aves., ste. 1601.
Who: Only Hearts
Why: Up to 80 percent off ready-to-wear and lingerie from Only Hearts, Alice McCall, Madison Marcus, LAmade, and more.
When: Mar. 19-22. Thurs.-Sat., noon-8 p.m.; Sun., noon-7 p.m.
Where: 230 Mott St., b/t Prince & Spring Sts. (212-431-3694).
Who: Tucker by Gaby Basora
Why: Resort, vintage, and limited-edition pieces starting at just $50.
When: Mar. 19-22. Thurs. & Fri., 9 a.m.-6 p.m.; Sat. & Sun., 10 a.m.-7 p.m.
Where: 13 Essex St., b/t Hester & Canal Sts. (212-777-8711).
Who: Michael Dawkins
When: til March 23 T-Sat 10-5 33
Where: East 65 Street (Madison-Park Avenues) 212.639.1540
Why: Womens Fine Jewelry Sample & stock sale. Fantastic jewelry samples from Michael Dawkin's Collection, as well as his full priced line, are available at his Madison Avenue store. Prices up to 50 percent off samples and selected inventory. Exquisite handcrafted jewelry, sold at Neiman Marcus, in sterling silver, 14kt gold and semiprecious stones. Prices from $150 to $2,000.
Who: Housing Works Spring Cleaning
When: March 3-19
Why: Womens & Mens Clothing. Every spring, the Housing Works Thrift Shops empties their stores and restocks them with first rate merchandise that they've been saving up over the winter. Then they have a blow-out Spring Preview sale where you get first crack at the unbelievably cool loot. Housing Works Members get in free or it's $10 at the door. Each store will be closed for prep the day before its sale.
When/Where: Tues, March 3 at 5pm: 122 Montague Street (718-237-0521). Thur, March 5 at 5pm: 157 East 23rd Street (212-529-5955) . Sat, March 7 at 10am: 72 Warren Street , 245 West 10th Street at 11am (212-352-1618). Tues, March 10 at 5pm: 306 Columbus Avenue (212-579-7566). Thur, March 12 at 5pm: 43 West 17th Street (718-838-5050). Sat, March 14 at 10am: 1730 2nd Avenue (212-722-8306). Thur, March 19 at 5pm: 202 East 77th Street (212-772-8461)
Who: Rachel Roy
When: March 15-19 Sun-Th 10-5 230
Where: Fifth Avenue (26-27 Streets) Lobby 212.920.1211
Why: Womens Clothing Sample & stock sale. Rachel Roy is an upscale, sophisticated women's clothing line, found at Bergdorf, Goodman. Save up to 75 percent off retail on her current collections.
Who: Issey Miyake
When: March 19 Th 8-8
Where: 145 West 18 Street (6-7 Avenues) Ground Floor, 212.226.1334 Ext 231
Why: Womens & Mens Clothing Sample & stock sale. For one day only … Women's and Men's Collections. The wearable art of Issey Miyake transcends trends and fads. Elegant jackets with gathering and draped collars. Skirts made in shiny, winter-weight satin are flatteringly draped with an asymmetrical hem. The designer's runway collection as well as his Pleats Please, Issey Miyake Fete, Cauliflower, and HaaT collections will be on sale at up to 80% off. Mixed seasons. All sales final.
Who: Miguel Ases Designer Jewelry Sample Sale
When: March 16-20 M-F 10-6
Where: 150 West 25 Street (6-7 Avenues) Suite 601 212.337.9646
Why: Womens Jewelry Sample sale. You've seen his jewelry at Barney's, Neiman Marcus and other famous department stores and boutiques around the country. Prices are up to 70 percent below retail. Pay with cash, and save an additional 10%.
Who: J. Crew
When: March 17-19 T-Th 11-8
Where: 261 West 36 Street (7-8 Avenues) 2 Floor, 212.947.8748
Why: Womens Clothing. Sample sale. Back by popular demand, J. Crew women's samples – read-to-wear, handbags, scarves, jewelry and more. Also Madewell samples – ready-to-wear and accessories.
Who: Marchesa Couture Collection & notte by Marchesa
When: March 25-26 W 8-7 Th 8-6
Where: The Warwick Hotel 65 West 54 Street (Corner of 6th Avenue) Kent Suite on the 2nd Floor 212.247.2700
Why: The most stylish evening attire from the MARCHESA Couture Collection and notte by Marchesa. Gowns, cocktail dresses and evening seperates in sizes 0 to 12. All natural fabrics – silk chiffon, silk satins and tafetta. Prices now 50 to 80 percent off. MARCHESA Couture Collection: Gowns, cocktail dresses, evening seperates – silk jackets, pants and tops retail from $3,000 to $7,000. notte by MARCHESA: Gowns and cocktail dresses – retail $650 to $1,800. >From the pages of Vogue, Harper's Bazaar, W and Vanity Fair. Penelope Cruz, Jennifer Lopez, Sienna Miller, Anne Hathaway, Liv Tyler, Scarlett Johansson, Cate Blanchett, amongst others, have worn MARCHESA at Hollywood's most prestigious events.
Who: Stark Carpet Warehouse Sale
When: March 25-29 W-F 10-9 Sat 10-8 Sun 10-6
Where: Metropolitan Pavilion 125 West 18 Street (6-7 Avenues) 212.752.9000 Ext 519
Why: The Stark Carpet Warehouse Sale has returned to New York! Bring home a new home from the Stark Carpet Warehouse Sale. Take advantage of this opportunity to shop at America's finest "to the trade" home furnishings showroom. Save up to 75 percent off regular prices on carpets, area rugs, fabric and wallcoverings. Shop over 20,000 square feet of designer merchandise, featuring sisals, antique rugs, stair-runners, fine fabrics, broadlooms, Tibetan rugs, Persians and much more. Save on discontinued items from Larsen Carpet, fabrics by Old World Weaver and Stark Wallcoverings. New merchandise is available daily. Delivery and installations are available.
Tags: