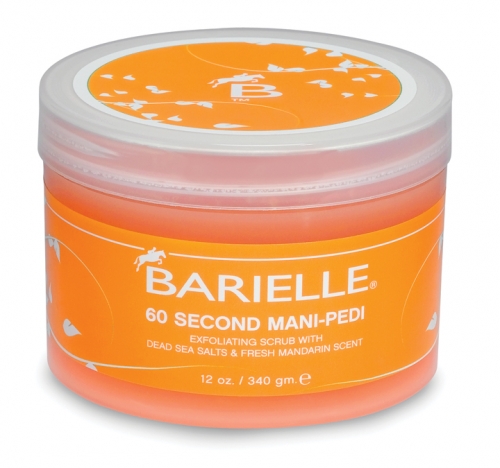 Launching just in time for the season of renewal, hands and feet get a fresh start this spring with Barielle's new 60 Second Mani-Pedi. A fast-acting exfoliating treatment, it only takes one minute to exfoliate and polish away dry, cracked skin with this luxurious blend of Dead Sea Salts and rich oils. The formulation includes the healing and polishing powers of Dead Sea Salts and the hydrating benefits of Soybean, Avocado, Jojoba, Rice Bran and Grape Seed Oils, as well as the ultra-moisturizing effects of Mango Seed Butter.
Dip your hands and feet in 60 Second Mani-Pedi, concentrating on cuticles and areas prone to dry skin, such as heels, the bottom of feet and backs of hands—even elbows can benefit from this scrub. 60 Second Mani-Pedi's fresh, mandarin scent also offers a relaxing, aromatherapy a-peel! The suggested retail price is $25 and is available at www.barielle.com.
I have yet to try this but 60 seconds sounds good to me since I'm quite impatient when it comes to salons haha! I'm going to have to give this a try, we all know how nasty dried and cracked heels look when you're wearing sandals. Don't think no one notices, I do ha! Has anyone tried this yet?
Tags: