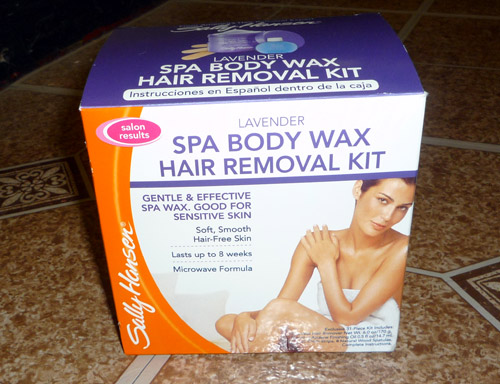 My new favorite home wax kit, the Sally Hansen Lavender Spa Body Wax Hair Removal Kit! I like waxing more than shaving since it leaves the skin smooth without bumps and razor cuts. I have been waxing my underarms since I can't even remember how long, I think I shaved like once ever and hated it. I've been using the Nair Microwave Wax previously but didn't really like it so I tested this Sally Hansen one out yesterday.
The lavender in the wax smells good and becomes really smooth after microwaving for 30 seconds. The wax can get a little messy but its all about getting used to it, I'm pretty much a pro with it since I've been doing this years. I used the wood spatula to spread the purple wax over the hair and put a cloth strip over and stroked the strip a few times to adhere wax firmly to strip then pulled away quickly. I was really surprised with the results, only one strip and 99% of the hair was removed! There were only a few hair remaining so I just plucked it, normally it takes about 2-3 strips to remove most of the hair with other products I've tried. It didn't hurt may be because I'm used to it and no blood or skin irritation occurred. The last step was to use the soothing Azulene to soothe and care for skin and remove traces of excess wax. Simple and easy, no cleaning necessary.
I really like this product and will be using this going forward, have any of you guys had good results with this product? Or complaints? Let us know!
Categories: beauty
Tags: