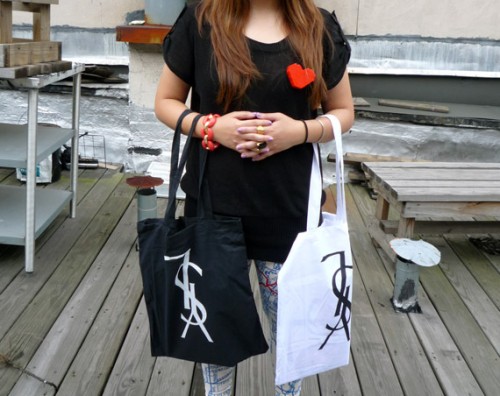 YSL Cotton Totes from September 2008
We all went a lil nuts last season when Yves Saint Laurent gave out free YSL cotton totes to promote their issue of Manifesto during fashion week. But if you didn't get a free tote back in September, then here's your chance. According to WWD, "Stefano Pilati will be spreading the love — along with limited edition cotton tote bags and heart-shaped USB keys — come Valentine's Day." Once again it's to promote the latest issue of YSL's Manifesto, "more than half a million copies of the catalogue will be distributed on the streets of Paris, New York, London, Milan, Tokyo and Hong Kong." Limited to 2,000 in each city, each USB key are images of the ad campaign starring Claudia Schiffer, and a making-of in Hollywood with photographers Inez van Lamsweerde and Vinoodh Matadin. It also features stickers for readers to move around Claudia Schiffer and the Hollywood sign. No word on where the the totes and USB keys will be handed out like last time, I'll keep you guys posted if I find out- or if you find out holla at me!
UPDATE 02.14.2009: I updated on my Twitter at about 11:10am about the location, i was at bryant park tent after lacoste show and they were passing out. don't know where the next location is but follow my Twitter to get the quickest updates when I find out!
Categories: handbags jewelry/accessories
Tags: