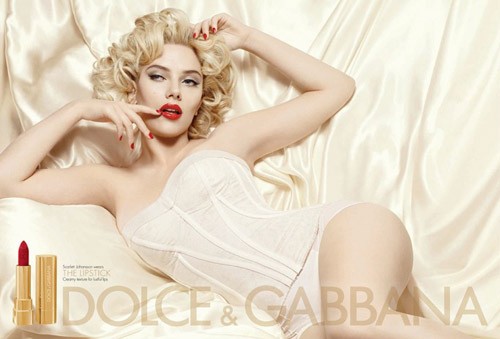 Dolce & Gabbana has tapped the super sexy Scarlett Johansson for the face of their first cosmetics collection this spring which was photographed in a studio in London by Sølve Sundsbø. The images depict Johansson on a bed and are reminiscent of a Marilyn Monroe shoot. According to WWD, "colors in the collection include intense blues for the Mediterranean; black and gold for the volcanic island Stromboli — where the designers spend their summer vacation — and a deep burgundy that recalls the color of one of Gabbana's favorite flowers, the dahlia. The line's packaging — weighty metal glossy gold with rounded edges and slipped into black velvet pouches — underscores the designers' desire to create a beautiful, feminine object." They wanted to create makeup with scent, their lipsticks will have a trademark rose scent and mascara will have a peppery olfactory note. There will be three looks to the line, "Lustful Lips," inspired by a silver screen siren with dark ruby colored lips and nails; "Provocative Eyes," a smoky eye and pale lip, and "Sensually Natural," a pared-back look of neutral hues.
The collection retail from nail lacquer for $20; mascara for $28; lipsticks for $30, and eye shadow duos for $36, up to perfect finish powder foundation for $59.The collection is slated to launch initially at three doors, "starting with Italian luxury department store La Rinascente's Milan flagship at the end of January, the line will be unveiled in two other key retailers in March: Selfridges of London and Saks Fifth Avenue."
"We see makeup as another thing for women, like a dress. We worked on the makeup line like we work on a clothing collection — you can change makeup like you can change your clothes, depending on your mood," Gabbana added.
One more pic after the jump…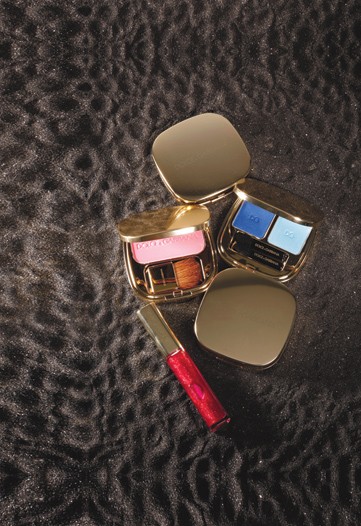 Categories: beauty celebrities
Tags: