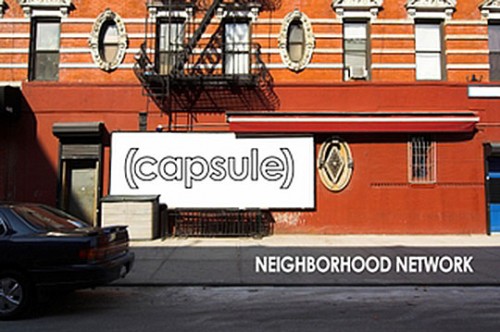 One of the ideas behind (capsule) was to center it around the community, and part of that involved them creating the Neighborhood Network, in which some favorite neighborhood spots offer discounts in honor of men's market week. For all the men on my blog, go check it out or better of ladies bring your boyfriend, brother or friend!
The Neighborhood Network starts Monday, January 19th to Tuesday, January 20th and includes: Remedy Diner, Dickson's Hair Shop, Frank's Chop Shop, mastihashop, Reed Space, Still Life, The Cast and Valley.
Also the next installment of the (capsule) NYC Show starts simultaneously with the Neighborhood Network next week at the beautiful Angel Orensanz Foundation Center. Don't forget to stop by- check out the flyer below.
Check out the discounts and details after the jump…
Remedy Diner
Enjoy a (capsule) breakfast special at our corner diner: Bacon, egg and cheese sandwich with coffee for just $4!
245 East Houston Street (corner of Norfolk)
Dickson's Hair Shop (Jan 19, 5-7pm)
Stop in for a bourbon reception and a shape up.
137 Allen Street (between Rivington and Delancey ) 212.260.5625
Frank's Chop Shop
Shaves and haircuts at this downtown insider's spot are 15% off, just for you. By appointment.
19 Essex (between Hester and Canal.) 212.228.7442
mastihashop
Shop to the tune of 15% discount on anything in the store.
145 Orchard (between Stanton and Rivington) 212.253.0895
Reed Space
Stop by this mecca of progressive street culture and receive 15% off your purchase.
151 Orchard (between Stanton and Rivington) 212.253.0588
Still Life
Pick up accessories that will have you Spring-ready and get 10% off regularly-priced items.
77 Orchard (between Grand and Broome) 212.575.9704
The Cast
Shop at this subterranean fashion speakeasy and get 15% off all purchases.
119 Ludlow (Rivington/Delancey)212.228.2020
Valley
10% off new and vintage cool-girl clothing and get 10% off non-sale items. 15% off nail or waxing services.
48 Orchard (between Grand and Hester) 212.274.8985
Categories: beauty shopping streetwear
Tags: